01 février 2013
Hi Friends,
Today is finally THE day!! I'm so excited to share with you the new spring/summer mini catalogue.
Since I received mine, I can't stop reading it. All products are beautiful, I want them all !!

Here is the link for you to have a look online until your paper catalogue arrives at your home.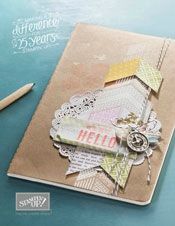 If you still didn't ask for it, contact me quickly!!
Here is a notebook I made using a some of the fabulous products you will find in the catalogue.Don't you LOVE it?
If you have any question, please let me know!
Happy Stampin'Time!
Comments New mini spring-summer catalogue