05 juillet 2013
Hi Stampers,
Here is the first card of the serie using the creative elements stamps set. For this card I have been playing in a very shabby style, where all papers are inked to add some volume to the card. I love this card who reminds me an old book cover page.. but this is really a card. I also used a lot of retired product. Some are old but still so great to play with, it would be a shame to let them sleep in a box, don't you think?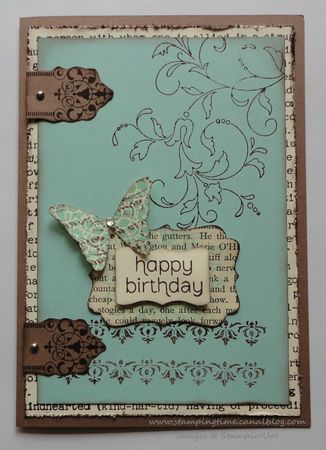 To create the first layer backgroud, I used a retired stamp called " friends". I really love this background stamp and have been so sad it has been retired. But in this new catalogue we have a new "dictionnary" background stamp that looks amazing... I can't wait to have my hands on it.
The butterfly have been stamp using a technique called " kissed technique" with the En Francais background stamp, and I used a really old book page to create the background behind the sentiment.
Material list:
Stamps: Creative elements, en Francais, made for you (retired) , friends (retired)
Ink: chocolate chips, marina mist (retired)
Paper: Very vanilla, Marina mist (retired) Cocoa (retired)
Final touch: Decorative label punch, Curly label punch, mini brad,
Rhinestone basic jewel.
Hope you liked this card? Leave me a comment :)
Come back soon for another card in this shower serie stamps set cards. If you have any question, please let me know.

Happy Stampin'
Comments Creative elements shower serie card # 1