07 juillet 2013
Hi Friends
Did you like the first card from this serie? Here is the second card from this Creative Elements stamps set serie.
Today is a clean & simple style card. I have been playing a lot with ink and a few material! It has been inspired by my friend Joice.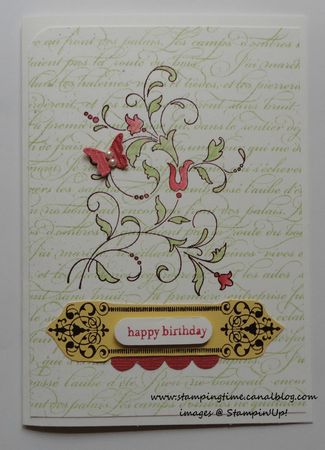 I again created a stamped background, I find it adding a nice "touch" to the flourish stamp. On this card, I tried to use the minimum of products, to show you that you really do not need to possess a lot when you start crafting.
One of the questions I got at my last workshop and I would like to share with you was... How can you afford to get so much material? I can't make such cards, I don't have all you have. It's impossible for a beginner.
There I have answered... You never buy all in once unless you are super rich! You build your collection up!. At the beginning, you can start with one punch and a really good pair of Scissors, or a trimmer. 2 or 3 inkpads, a great stamp set and again one or 2 colors of papers, depending on your budget. And you're set up to make gorgeous things.
Hope you like this card? Leave me a comment :)
Happy stampin'
Comments Creative elements shower serie card # 2