19 juillet 2013
Hi Friends,
Ready for the second card from this shower serie cards?
Today is a card that I had so much fun to create. Looking at my desk the other day, I just saw some untidy few things.... a sponge dauber, a butterfly from another project, and the postage punch I used the day before... Voila, just enough to give me today's card idea. I really wanted to play again with that punch, which is really made for the Postage due stamps set.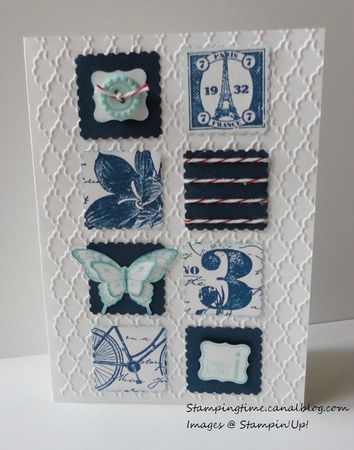 Material:

Stamps: Postage due, papillon potpourri, pretty petites (SAB2013)
Cardstock: Whisper white, Note quite navy, baja breeze
Ink: Note quite navy, baja breeze
Accessories: baker's twine, big shot, Fancy fan folder, button (SAB2013), sponge dauber.
Punches: postage stamp, mini curly label, Elegant butterfly, Mini butterfly.
I wanted to do a monochromatic card, but could not resist in including a tiny bit of other colours , to make a nice " touch ".
Do you like this card? leave me a comment about it. What would you do differently?
Thank you for visiting my blog today.
Happy stampin'
Comments Postage due shower serie cards #2