27 août 2013
Hi friends,
In this so sunny day, and a bit rainy, I have been back to my stamps to create this card. I am still in love with this oh! so versatile stamps set.

In this vacation time, many of you are traveling around the world. This reminds me the very old " by air " envelopes we could use in my childhood to send letters over sea. Do you remember thoses white, red and blue envelopes?? This was my inspiration for today's shower card.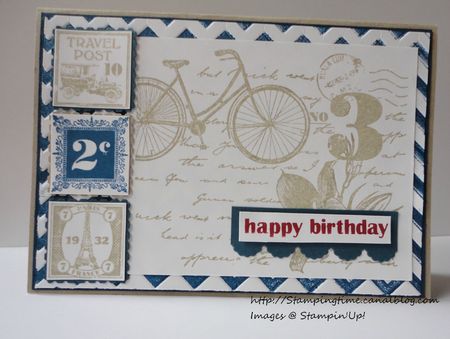 Material:

Stamps: Postage due, Best dad ever (retired)
Ink: Crumb cake, not quite navy (retired), whisper white
Paper: Crumb cake, not quite navy (retired)
Material: Big shot, Chevron embossing folder, Adorning Accents Edgelits,
Postage stamp punch.
Note.. this serie shower message for an unknown reason have disappeared from canalblog, which explain why they have never been posted. I am busy reparing it, thank you for your patience.
Happy stampin'
Comments Postage due shower serie cards #3