30 août 2013
Hi Friends,
Have you been looking to the new mini catalog yet???
With our friends from Hoofdoorp, we have plan to make Halloween together this year. I am now preparing enough candy bags, cards and home decoration for this party. I just can't wait for us to dress our witches outfits!!
Here are my first Halloween card and tag. I have used the stamp set Halloween hello from the mini catalog and created a tag to attached on a tiny candy bag, using the framelit Chalk Talk. I LOVE IT!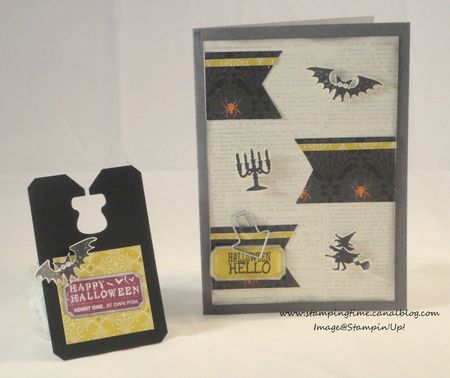 For the card:
Stamps: Halloween Hello, Dictionary
Inks: Basic Black, Basic Grey, Summer startfruit
Cardstock: very vanilla, basic grey
DSP:Witches'Brew
Punch: Ticket duo Builder
Accessories: Hung Up cute clips.
For the tag:
Stamps: That's the ticket
DSP: Witches'Brew
Cardstock: Basic black, very vanilla
Material: Big shot, Chalk Talk framelit
I am still learning how to use my studio photo. At least, there is no toys or wall behind my cards... but the light is not yet as good as it should be... working in it :)
Are you going to make an Halloween party this year? I really love it, even if we are not in America and if we are French... that's still something fun to do until Christmas! Leave me a comment to tell me all about your Halloween project!


If you have any questions or would like to place an order, contact me at Adeline7674@hotmail.com or call me 06.134.179.71
Happy stampin'
Comments Halloween Hello....