19 février 2014
WOW, the Texture boutique is back for a limited time. Once it runs out, they won't be any back order. GET IT NOW before it's too late.
This is a fantastic machine. It's embossing made easy!!!
Texture Boutique is the perfect, portable tool to create embossed cards, tags, embellishments, and more. Use it with our Stampin' Up! exclusive Textured Impressions Embossing Folders.
Texture Boutique Embossing Machine
item 132657
35.95 € / £26.95
Check a nice video here
During SAB, get the Texture boutique + 3 folders for at least 60€ and get a FREE embossing folder from the SAB folder.
Contact me for more information or email me your order.
happy Stampin'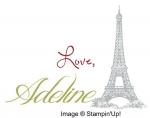 Comments Texture boutique is back!!