09 mai 2014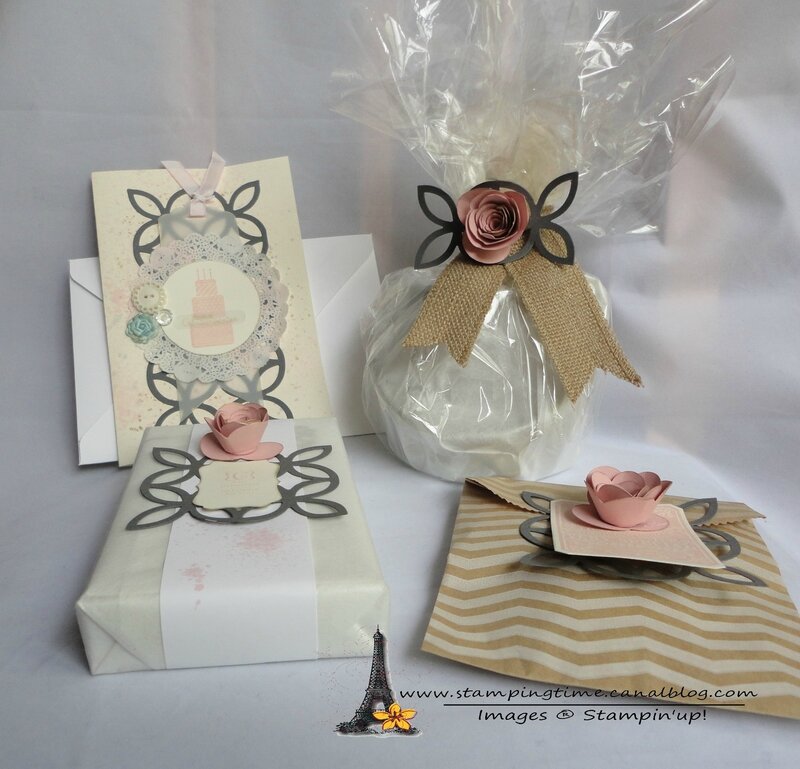 In my million things " To Do " list was making a giant card and warping gifts for my sister's birthday. She didn't receive them yet but she knows something is on the way... I guess she will be having a great laugh when unpakking them.

I made a giant card and the coordinated envelop with my Envelop Punch Board. I have always so much to write that a simple standard size card is always too small.



As we grow, tastes change, so I made her a "vintage - shabby" card style. I hope she will like it.
It's hard to see well with Blushing Bride colors en gold on photos but the card is really shining.
My new addiction with vintage or shabby style is to use vellum. It gives a really light but gorgeous effect. Don't you think so too?

And off course, as we are french, I needed a french sentiment. I used the " Joyeux Anniversaire " from the Quelques lignes stamp set. A lovely blue paperclay was on my desk, I added a bit of gold ink to it... and voila. A touch of another color sometime makes the little difference from great to perfect.

Along with this card are some gifts wrapped with different kind of packaging. I used the Tag a Bag Gift paper bag who hide a big metal heart,
For theses gifts, I have used the White creped filter paper and I was really happy with the result.
For all gifts and the card, I simply ran Basic Grey cardstock with the Latice die and made roses with Blushing Bride cardstock and the Spiral Flower die. I hope she will love them.
Material:
Stampsets
: Occasion alphabet W128688 C123598, Chalk Talk W130631 C130634
Make a wish W131928 C129222, Quelques lignes W125680 C125682
Paper
: White vellum A4 106584, Creped filter paper 129393
Inks
: Very vanilla 106550, Blushing Bride 131287, Basic Grey 121689, Gold mettalic pad 132141
Reinkers
: Smoky slate 131159, Blushing Bride 131157
Accessories
: Ribbon Pink pirouette 122981, Baker's Twine whisper white 124262
Vintage Faceted Buttons 127555, Paperclay 130685 Molds 131272,
Very vintage Designer Buttons 129327
Tag a Bag Gift Bags 131370, Tea Lace Paper Doilies 129399
Burlap Ribbon 132140, Stampin' Spritzer 126185
Punches & Dies
: Scalloped Tag Topper Punch 1333324, Decorative Label 120907
Word Window punch 119857, 2-1/2" Circle punch 120906
Lattice Bigz 115958, Spiral Flower Die 129379
Click here to shop Digital Project Life downloads
for My Digital Studio. Learn more about My Digital Studio by
clicking here
Check this week WEEKLY DEALS by
cliking here
If you need more information or would like to enjoy a "Gift warps workshop" at home , do not hesitate to contact me

Email me your order or Shop online with me here

Happy Stampin'
Comments A bunch of Gifts and new Weekly Deals