12 juin 2015
I love challenges!
I recently came accross a fun and inspirering
This card is the first card I created using my Kijkast KIK Kit and I really love all the papers and embellishments from that kit.
The bonus is that when you subscribe to that KIK kit, you do not only receive a kit all prepared for you to create cards, boxes or whatever comes to your mind, but you also receive newsletters with tons of ideas, tips, and tutorials to help you go along the way.
This is also a nice way to get out of your confort zone and learn new techniques!
If you do not have a kit yet, don't hesitate to jump there and subscribe! It's fun!
Happy Stampin'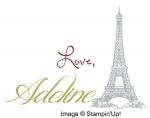 Comments June KIK card #1