20 janvier 2016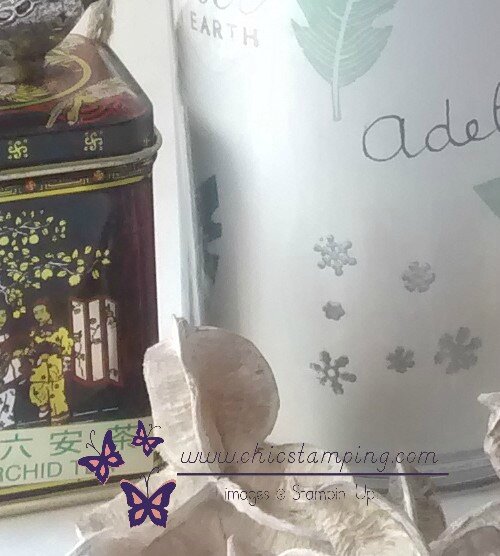 (if you want to see the tip directly and the workshop, jump at the end of this message)
For years now, I have been a Starbuck lover and always carry my coffee cup with me. And for many years, I wish I could make my own design on my cup, be able to change it when i want and write my name on it.
Have you notice they never spell it write or call you Sarah when you said Samantha?
When I found this DIY (and very expensive) cup last time I went to grab my favorite coffee, I saw this DIY cup...
Ok it was pricy, but i just could not resist! My wish was granted, Starbuck has made a DIY cup!

Inside de cup, there is a pen, for you to write messages directly on the metal cup AND there is a plastic sheet fitting your cup perfectly!
So it didn't take long before I reach my craft table and make a couple of designs.
Here is my first one, inspired by our winter season: silver snowflakes embossed with silver embossing powder and feathers for the peaceful time we have during winter. All is quiet outside. Nature is resting, recharging its battery, preparing for next summer ...
Why not making your own during a workshop and combine the fun of having interchangeable designs with a fun party with your friends?

This workshop is 25 euros per person. It includes the cup and material. You will be making 6 differents designs and learn a lot of techniques. This cup has a life time duration when you take a good care of it. I will be sharing Tips for maintening the cup clean and odorless too!
This workshop is NOT refundable. If one of your friend can not attend, all supplies will be sent to your friend by post.
Book your workshop now during Stampin'UP! celebration and earn extra hostess products and free stamps & more!
Contact me now at : adeline7674@hotmail.com
Email title: Starbuck Workshop.
Before leaving, here is a tip for you when making your design:

The plastic sheet that you will use is a tiny bit too big. Remove a milimeter of 1.5 mm from one side of your paper after cuting it. More tips during the workshop!
Happy Stampin'
Comments When Starbuck meet Stampin'Up! love story & workshop