02 septembre 2015
Another reason i like offering little surprises is to hear "oh I love it, but you know it's not my birthday today?"
I can't resist it ;) ! Offering a surprised gift for no particular reason and create a sunshine for that person on a no special day is priceless to me!
This box has been made with my very favorite thinlits from Stampin'Up! The curvy Keepsake Box is a perfect size for very little objects or for chocolates. This one contained lavender Salt for bath.
I also used the lovely resist paper and a retired color inkpad. The sentiment is in French from the Voeux d'Anniversaire sans fin stamp set. The english version of that set is Endless Birthday wishes (#140273)

The butterflies was made using the Butterflies Thinlints (#137360) with vellum cardstock and regular cardstock in the same retired color.
Do you want to learn how to make fun little boxes like this one? Contact me for a workshop and we will make several little boxes with different colors and thema. (butterflies, roses etc..)
Happy Stampin'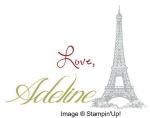 Comments Butterfly Curvy keepsake box