14 février 2016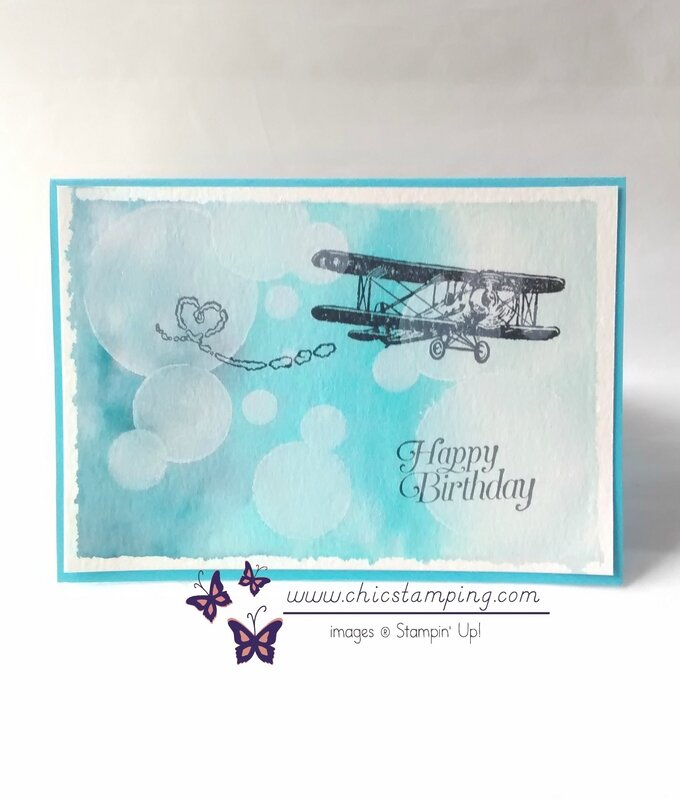 The Bokeh technique is a fun masking technique that gives a nice background effect on a card, creating a transparency.
I used this technique on the Burst card yesterday too. You can use any kind of mask for this technique, isn't that fun?
Material used for that card:
Stampin'Up! watercolor paper.
reinkers.
a regular paintbrush.
White craft ink.
Stazon black inkpad
FREE Sky is the limit stamp set from

SAB**

different circles punches.
Window sheet.
Tempting turquoise A4 cardstock.
sponge dauber.
How to create a fun Bokeh background:
Cut a piece of watercolor paper.
If you want to have a white frame, tape it on a non sticky surface. (craft sheet or baking paper)
Wet your background fairly, but not too much. You want your inks to smire on the paper.
Choose 3 different or more colors and apply them one by one using a paintbrush.
Remove the exces of water from the side with a dry paper towel if needed.
Let your card air dry or speed up with a heat tool. The colors will be lighter when dried.
Use a mask* with White Craft ink and apply with a sponge dauber on some areas. Overlap for more intensity.
Stamp your image or sentiment with waterproof ink or fade resistant ink.
Decorate more if you want and... voila!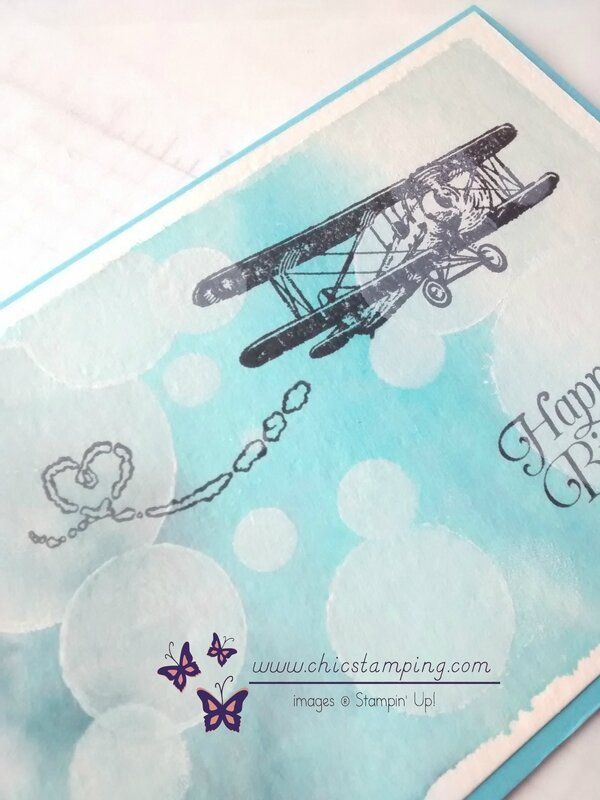 Create your own mask*
Punch different size of circles in a transparent window sheet. I used the Stampin'Up! punches : Circle 1", Circle 3/4", Circle 1 1/4" and Circle 1/2".
Do you want to see more techniques? Have a look here
**This free stamp set from Sale-A-Bration is retirering tomorrow from the SAB brochure. Get it today or it will be too late.
Send me your order at adeline7674@hotmail.com or call me at 06.134.179.71 (netherlands only)
I hope that you enjoyed this tutorial? If you have any question, contact me by email or leave a message below.
Happy Stampin'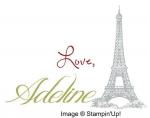 Comments New fun technique: Bokeh background tutorial