11 février 2016
Here is the second card for this Yello Vintage Project Life card serie and as the first one, i had tons of fun making it in a flash.
All 4 cards from this serie were made using the same technique for creating lines for your journaling.
You can see this technique on the first card here.
Material used for that card:
(all material is from Stampin'Up! except when mentioned)
Left overs of Typeset Specialty DSP.
Stamp set : Timeless Texture.
cardstocks in the same color como as card 1.
Whisper White thick cardstock
banner punch.
a regular stapler.
White Perfect Accent enamel dot.
Technique Tuesday framelit card.
Stampin'Up! trimmer.
Sponge dauber.
How did I made this card:
Cut a 4x3 card in a thick whisper white cardstock.
Cut a 4x3 card in the DSP paper, glue on the white card. Sponge around the card with Daffodil delight.
Cut the Tempting Turquoise frame with the Technique Tuesday framelit.
Cut a piece of white carstock at the same size of the frame.
Stamp lines on the white cardstock card using the technique from last week.
Stamp the flower and coffee marks from the Timeless Texture stamp set. Glue the frame on the white card.
Punch 2 little banners. Cut a tiny piece of DSP and glue it on the Chocolate Chips banner and staple them on the card.
Glue the framed card on the card base. Decorate with an enamel dot.
And here you go, your card is finished. It took me about 10 min to make this card. If you make this card, let me know if you have been faster than me in a comment below ;)
To see all my other DIY cards , you can jump right there ;)
If you have any question or would like to place an order, leave me a little comment below or contact me at adeline7674@hotmail.com.
Thank you for your visit, next card coming soon ;)
Happy Stampin'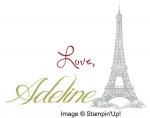 Comments DIY project life card: yellow vintage card 2