15 mars 2016
Helas, despite all the good care that we have been taking during theses freezing days, the flu has been invading our house.
Therefore the little silence on my blog during the last few days. When someone is sick, who best than mama can take care of you? Which gives me little time for myself for creating and posting on my blog! I hope you all are well and in health.
I am trying to steal some minutes today to show you a little card I enjoyed making with the same masking tape technique that I showed you here. I give your the details right under the color combo and my secret masking technique background mini tutorial too!
If you have not been trying it yet, give it a try, it's super fun!

Material for this card:
By the tide stamp set.
Inkpads.
Whisper white thick cardstock.
Vellum.
Big Shot and dies (this one is retired)
1/2" circle punch.
Chocolate chips cardstock scraps.
Crystal effect.
Simply scored stylus.
Aqua Painters.
Dimensionals and glue dots.
Embellishments: Candy dots, rain pearls (not a SU! product), Mettallic sequins.
Color combo for this card: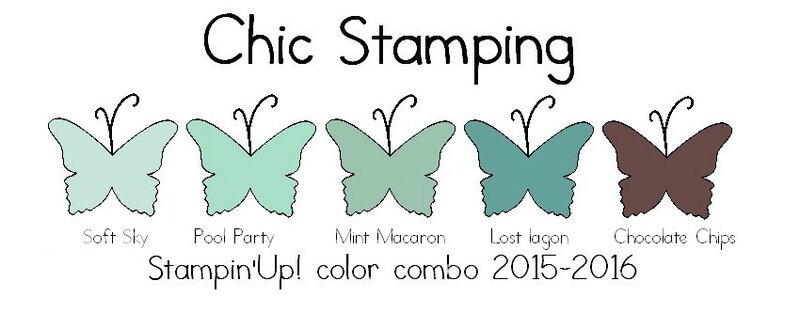 How did I made this card:
Cut a card base in Whisper White cardstock.
Stamp your background using the technique below.
Cut and color your fish with Aqua Painters, let dry for at least 15 min.
Emboss your fish with your stylus to give a good 3D look to your fish. (I will come back on another tutorial for this one in another post)
Cover your fish with Crystal Effect and let it dry for a couple of hours.
Cut and stamp your vellum piece, let it dry for a good 15 min too, or more depending on your room temperature.
Stamp the "corals" on your card. (I have no clue how to call theses... are they corals?)
Glue all elements on your card using glue dots for the vellum and Dimensionals for the fish.
Leave me a comment below to let me know you liked this card and tutorial.... (oops that's not part of the card technique, but it will be very appreciated! ;) )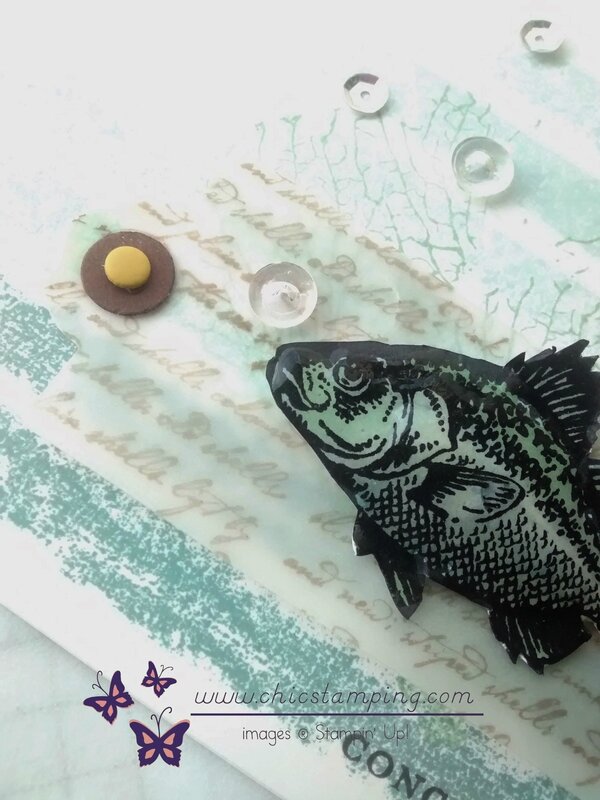 See the 3D fish? I got many WOW for that fish recently, cool effect ;)
TESA Masking tape background technique:
This is a very simple technique. Read it all and you will see that it looks like a long explanation but it's very very simple.
For this technique, you need masking tape. I do not recommand washi tape, but real masking tape for this technique. The glue qualitity will make the difference! I use the Tesa masking tape, a roll that I bought many years ago. You can find it here or in your local store. My roll is 2cm wide. Regular brands may work just as fine, I didn't try.
Cut long strips of masking tape, on my card they are longer than my card base.
Remove all the exces glue on each strips by taping them on a cloth. Repeat as much as needed. They need to stick very lightly.
If your strips are too wide, cut them in half: stick them onto your craft mat and cut them with a precision knife and a ruler.
Ink one strip at a time, you need one strip per color if you do not want to damage your inkpads. If your ink is very rich or dark, you can stamp it off too before stamping on your card base.
Play with different widths and colors to make fun and easy backgrounds.
Have fun!
I hope that you enjoyed this card and mini background tutorial. Let me know in a comment if you have any question or send me an email at Adeline7674@hotmail.com.
Would you like to try this during a class or a workshop? Contact me to book a date. Remember that during SAB, hostess win a free product when booking a workshop with me that is over 60 euros. More friends, more fun!
Please note: this offer is not endorced by Stampin'Up! and is only available during Sale-A-Bration by Chic Stamping!
Shop now and win your free products! Place your order with me at Adeline7674@hotmail.com or give me a call at 020.697.22.58.
Hurry Up! Hurry Up! Sale-a-bration ends on the 31th march !! After that date it will be too late to have your free products.
Don't forget to register to my newsletter to receive all the news and tutorials ;)
Happy Stampin'
Comments Like a fish in the water background technique.