23 mars 2016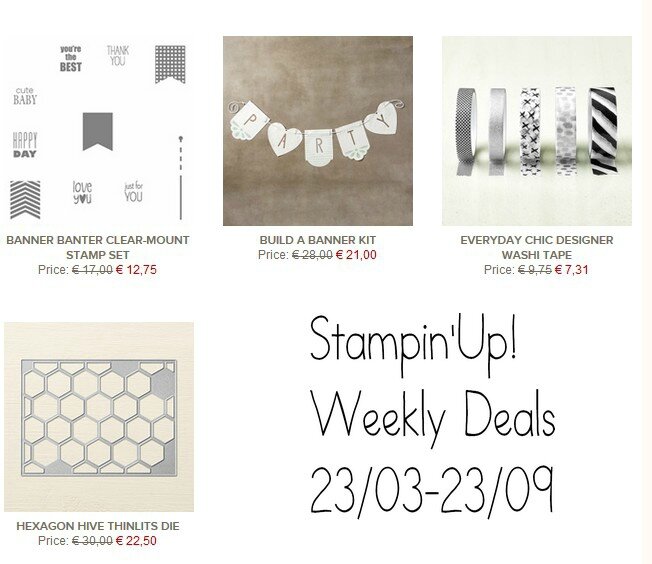 There are a lot of news at ChicStamping this week!
As each Wednesday, it's weekly deals time at Stampin'Up!
A great selection of products at a reduced price.
Save up to 25% on this item during this period - 23/03/16 - 29/03/16
What can you do with this great products?
The Banner Banter stamp set, available in clear and wood, and it is matching the Banner punch. It's a great set for Project Life, little gift tags and cards too!
Build a banner kit is a fantastic DIY kit, including stencils with numbers and letters, a spray and much more. A good way to celebrate something or someone!
"Everyday Chic Designer Serie" washi tape is fantastic. It was designed to match all dark/white/black Design Serie papers, Project Life kits and more. I love it for men cards too!
Hexagone Hive Thinlits die is made to be used with the bigshot but you can use it as a stencil too!
New workshop program at Chic Stamping:
☼ 101 Stamping: Basics and beyond.
☼ Stamp a stash of cards.

☼ 101 Project Life Memory Keeper.

☼ "It's all about mum & baby" workshop.

☼ "Color Splash!" workshop.

☼ Botanical spring workshop.

☼ Technique workshops/classes.
You can find more details about the workshops here and a list of classes here.
Hurry up! Hurry up! Hurry up!
Some items are now in a limited amount and will not be restock. There are 8 days left to place your order and choose your free product(s). You can see the flyers here and there. Contact me quickly!!
To place your order or book a workshop, send me an email at adeline7674@hotmail.com or call me at 020.697.22.58 (french answering machine, don't be afraid, leave your message and I contact you back!)
Happy Stampin'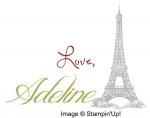 Comments A lot of news!!