24 mars 2016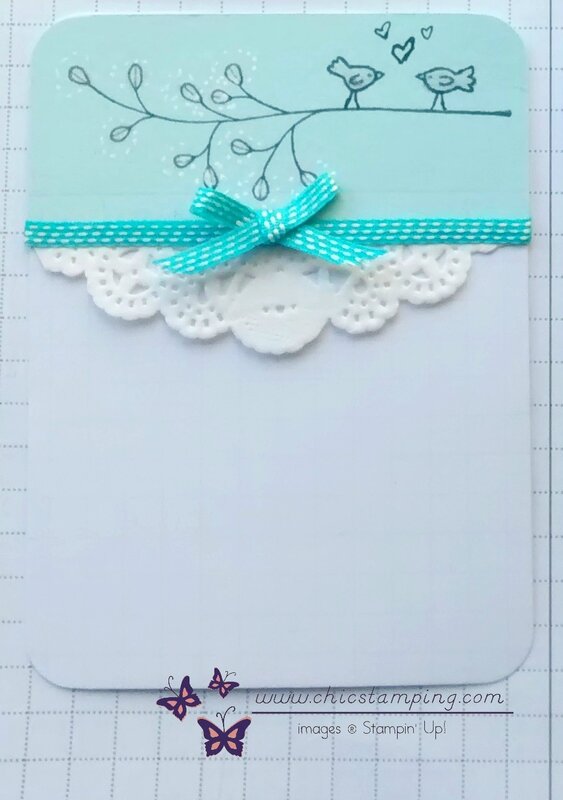 Hello Project Life card lovers!
What a aweful weather today! The sky is so grey... it's impossible to take any beautiful photos without having to add tons of lightening in the house. Despite all my efforts, i didn't succeed in taking a good one today. Well, theses little birds on the branch will hopefully brighten your day!
Material needed for this serie:
Flowering Fields free SAB stamp set.
Pedal Pusher. (for the tiny birds)
Project Life black pens.
Whisper White thick cardstock.
A4 Pool party cardstock.
White gel pen
Wink of stella pen.
1/8" Bermuda Bay stitched ribbon
Tea Lace Paper Doilies
Memento black.
Corner punch.
Regular tape
Glue dots.
Scissors.
Pool Party & Whisper White.
How did i made this card:
Cut your card 4" x 3" in your whisper white thick cardstock using your trimmer and a cornner punch.
Cut a piece of Pool Party paper and cut it at a 1/3. Round corners on the top.
Stamp the "branch" with Memento Black.
Stamp the 2 little birds then draw a heart with your Project Life pen. Let dry.
Cut a piece of Tea Lace doilie that has the same wight of your card.
Glue it on the back of your Pool Party card piece and then glue it on your card base.
Cut a piece of ribbon to attach on your card. Before you attach it, trim a little bit of the card where the ribbon will be, so that it doesn't make an extra layer when you place the ribbon, and fit perfectly in your page protector. Now attach your ribbon on the back using tape.
Make a little bow and attach it with a glue dot.
Glimmer the branch and birds with the Wink of Stella pen. Let dry it very well.
Make some little dots all around with your white gel pen.
Your card is finished. It was a very easy card!!! If you have any question, feel free to send me an email at Adeline7674@hotmail.com. I will be glad to help!

Please keep in mind that theses instructions are for your personal use ONLY. If you use this step-by-step and show it on social medias or during a , please do not forget to link it back to my blog: www.chicstamping.com. Thank you!
Shop Now
Do you want to order the basic material for this project? Contact me to place your order at adeline7674@hotmail.com or call me at 020.697.22.58. Shipping is free when you come to pick it up in Amsterdam. And yippie! this is still SAB, so free gifts are on your way too when your order is 60 euros or more. Get the Flowering Fields stamp set for free too ;) or choose any of the other products that you can see below!
Happy Stampin'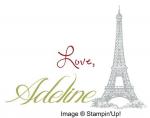 Comments DIY Project life card serie Flowering Fields #3