14 avril 2016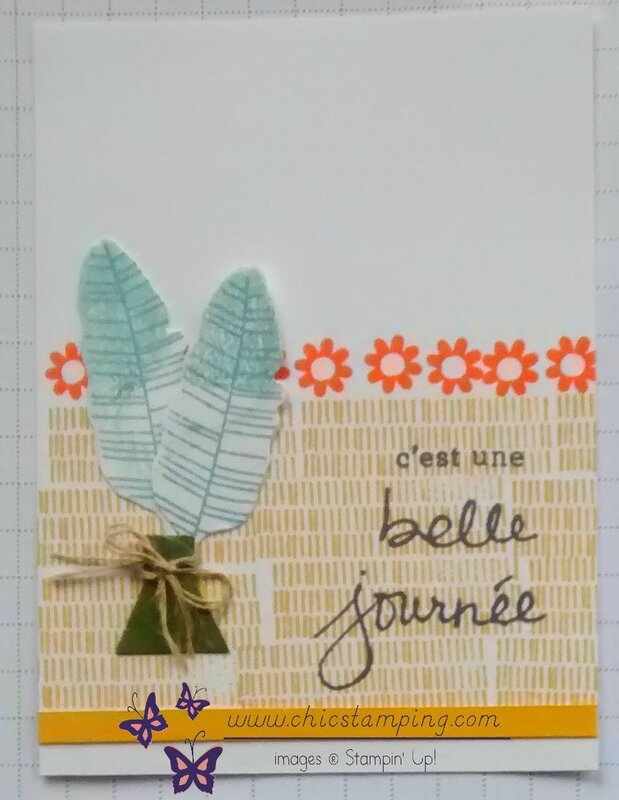 This is the second card from this Botanical Blooms serie.
Have you noticed that certain stamps from this set have shapes looking like other objects?
So it me, the middle size long shape leave make me think of a feather. Therefore today, the idea of the card is an inker with feathers, to be prepared for a nice journey and write about it.
Material needed for this card:
Botanical Booms photopolymer stamp set.
Voeux d'anniversaire sans fin.
Bow builder punch.
Whisper White thick cardstock.
Sponge dauber.
Inkpads and cardstocks In Colors 2014-2016 (see list below).
Memento black.
Embellisments: Linen thread.
Fine tip glue pen.
Color combo for this card:
For this month card serie, I chose the In-colors 2014-2016. They will soon retire! If you do not want to be out of supplies for theses colors, contact me now. They will be available while supply last!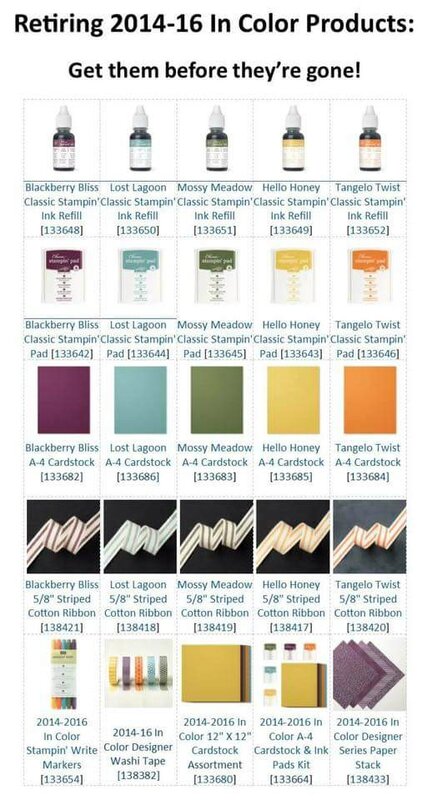 How did i made this card:
Cut your card 4" x 3" in your whisper white thick cardstock.
Cut 2 "feathers" using the long leave die into Whisper white cardstock.
Use your sponge dauber to color your feathers, making it more intense on the top.
Stamp the "veines" in the same color.
On your card base, stamp the stripes using the stripe stamp with Hellow Honey. Once again, the color is too rich for me, so I stamped off on the scrap piece of printer paper before stamping on the card.
Stamp the tiny flowers with Tangelo Twist.
Cut your inker with the Build a Bow punch or just cut it with your scissors. Attach a bow made with Linen Thread.
Cut a piece of 5-6 mm of Hello Honey cardstock.
Assemble all your elements and stamp your sentiment.
Voila! Your card is finished. If you have any questions, please feel free to contact me by email or leave a comment below. I love reading your messages!

Please keep in mind that theses instructions are for your personal use ONLY. If you use this step-by-step and show it on social medias or during a workshop , please do not forget to link it back to my blog: www.chicstamping.com. Thank you!
Shop Now
Do you want to order the basic material for this project? Contact me to place your order at adeline7674@hotmail.com or call me at 020.697.22.58. Shipping is free when you come to pick it up in Amsterdam.
When you order for 60 euros or more, you receive an extra gift from me.
When your order is 80 euros or above, shipping is free directly to you home from me too! (This is not a Stampin'Up! offer, only a gift from Chic Stamping.) and the little gift will arrive seperately by the post.

Happy Stampin'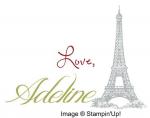 Comments DIY project life card: Botanical Blooms serie #2