06 juin 2016
Recently, my little boy turned 8!! It's amazing how fast time is flying. It feels like it was yesterday that I could hold him for the first time.
Like every year, we sit together and think about what he likes and what his birthday card invitation should look like. And at first, I was not confident at all, he asked me for "Cut the rope". Do you know that game on the tablet? this cute little frog? it is SO addictive and fun.
Well I have turn it around and around and could not find a way to punch it nicely. So I suggested him another choice and I was glad that he picked up Angry bird.
Then it went super easy. I made 2 minions birthday cards for his friends using the Ballon Celebration stamp set and the matching punch, that you can see here and there and only "had" to adapt it for birds...
Not to mention it was taking far more time for theses ones, but it was so much fun to do.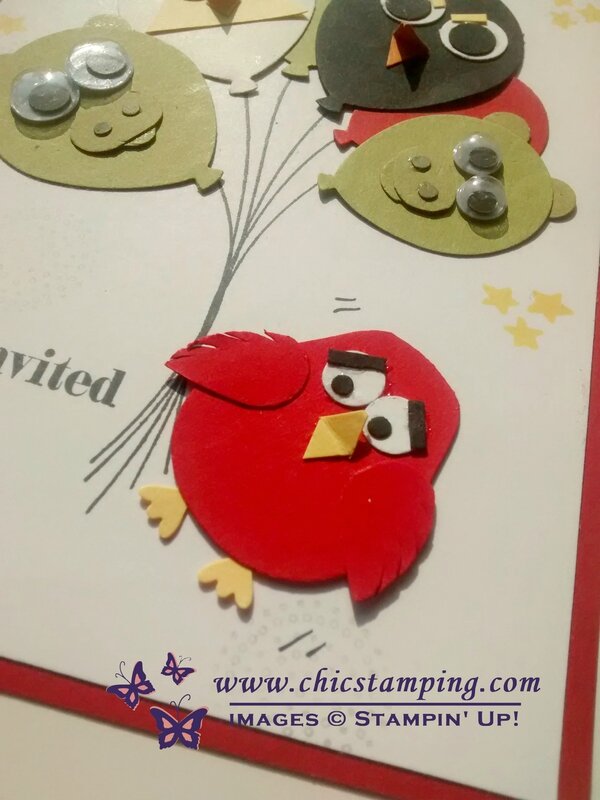 Just like on the minion cards, he wanted the googly eyes!!
I have made and sold so many minions cards that I have a huge jar of googly eyes...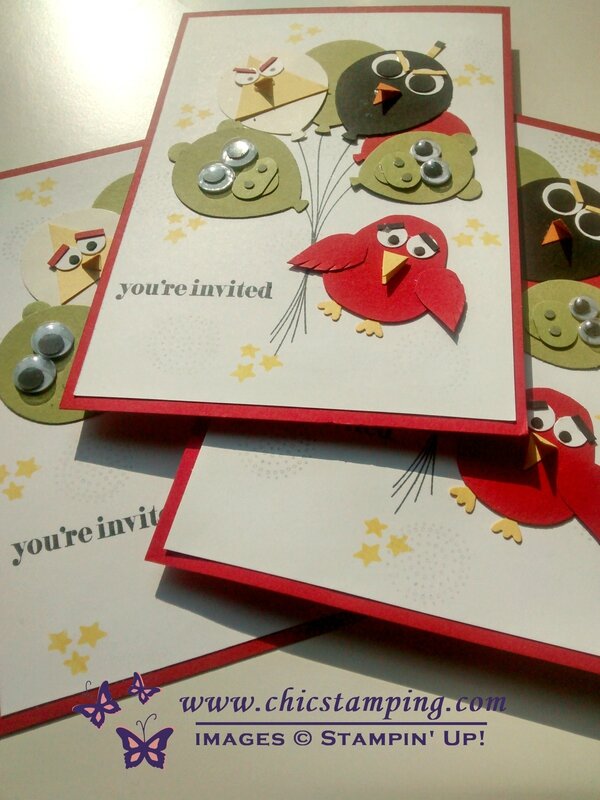 Here are only 3 of the invitations but in total i made 12!!!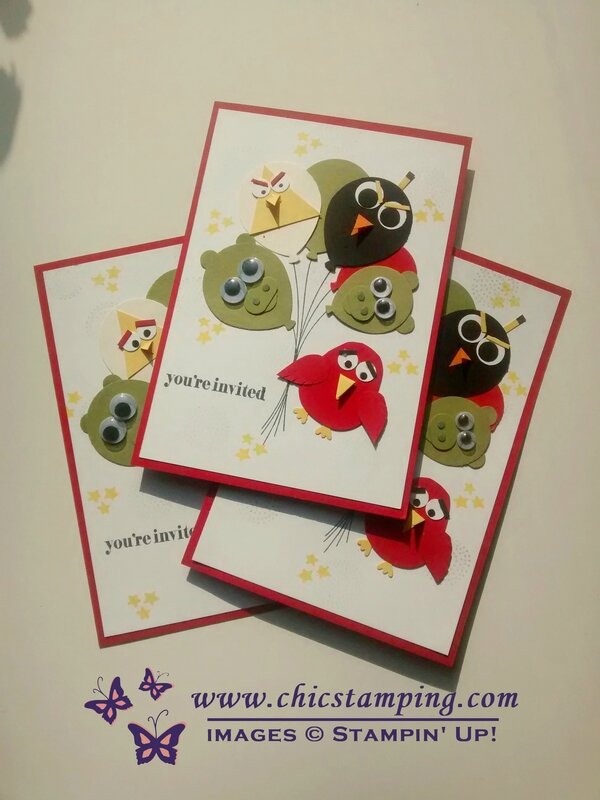 And in the Netherlands, there is a funny (strange?) tradition where the children have to bring a little gift to their team mates as well as for the kids that attend the party...
Obviously, we needed to create the matching box too!
Thanks to my lovely mom who came especially for his birthday, we did the job in no time. Don't you think this party favor boxes lools so much fun???
Material used for the cards and boxes:
Ballon Celebration stamp set.
Ballon Bouquet punch, Owl Builder punch.
Cardstock: Real Red, Basic Black, Old Olive, Daffodil Delight, Pumking Pie, Always Artichoke.
Basic Black Stampin'Write Marker.
Memento Black.
Daffodil Delight and Crumb Cake ink pads
Fine tip glue pen.
googly eyes (from the local store)
A good pair of scissors.
Would you like to receive handmade birthday party invitation cards with your own special theme directly to your door?
Or best, make it yourself during a class ? Maybe you only need the material and written instructions?
Contact me at adeline7674@hotmail.com or 06.134.179.71 to book your class, place your order or to purchase the cards and party favors. I come to your house with all the material for the class or can set up my craftroom for you in Amsterdam Zuidoost on request.
Let me know what do you think of theses cute cards and boxes in a comment below ;)
Win Win Win
To get a chance to win an inkpad from the new incolors, jump here and leave a comment before June 15th!
Happy Stampin'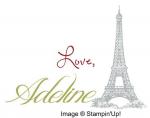 Comments Angry birds ballon celebration card and WIN an inkpad!!!