13 juin 2016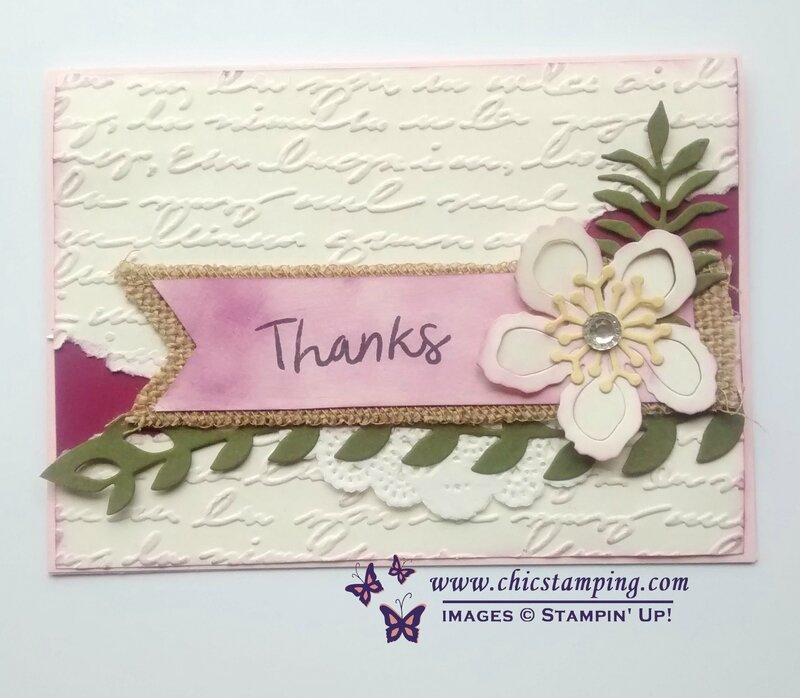 Just before the previous catalog retires with this so gorgeous Blackberry Bliss in-color, I wanted to use it one more time to create a thank you card for a very dear friend. I have stock this color so that I can still use it. It was so far my very favorit. I really hope that it will come back one day.
For some reason, this card was in the wrong pile and therefore I didn't show it to you earlier. It is amazing how many cards I have made so far and still have in my craftroom. I send most of them, but still have so many. For the funny story, my friends and neighbors knows that I always have cards and matching boxes ready to use and time to time they knock at the door or call so that they can pick some of them for their needs. It is like having my own shop ;)

Back to this card....
I wanted a Shabby Chic look for this card and have used the tear technique to achieve that look, adding a tiny piece of tea lace doilies and burlap ribbon. Sponging the edges added the final touch.
Material needed for this card:
Botanical Builder Framelits.
New Suite Saying stamp set.
Whisper White and Daffodil Delight cardstock.
Old 2014-2016 in-colors cardstocks and inks.
Old Burlap ribbon.
Old Tea Lace doilies.
Old Ice rhinestone jewels.
Old embossing folder "script".
This script embossing folder was also one of my very favorit. It really make all Shabby cards perfect , well at least in my opinion LOL!
I hope that you have enjoyed this card.

Don't forget this month promotions!!
You can get 35€ extra hostess rewards with a qualifying order from 350€ or more.
Join my team as a demonstrator, I welcome hobby and seasonal demonstrators too! See this promotion here. Or contact me for more information at Adeline7674@hotmail.com or 06.134.179.71
Get a free shipping with all your orders above 60 euros. It is also free when you join a group order!
Need a catalog? Contact me to get yours.
Our next group order will be July 1rst! Please send me your list before the end of June.
Win Win Win
To get a chance to win an inkpad from the new incolors, jump here and leave a comment before June 15th!
I love reading your comments. Let me know what is your favorit style? Clean and Simple? Shabby? Steampunk? Artistic style....?
Happy crafting!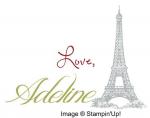 Comments Thank you card botanical blooms and last chance to WIN!