05 juillet 2016
Sometime, things can't get better! In July, Stampin'Up! is giving away coupons to spend in August! Isn't that great?
How that is work?
Place an order with me in July (7-31) from 60€ and above and you will receive a coupon per email. Actually you can receive as much as you want! For 120€ euros, you receive 2 etc... The sky is the limit!

Redem your coupons with your next order in August (2-31) and get therefore a reduced price on your order.
How can it be more fantastic than that?
Well... what's about having an exclusive stamp set and coordinating dies?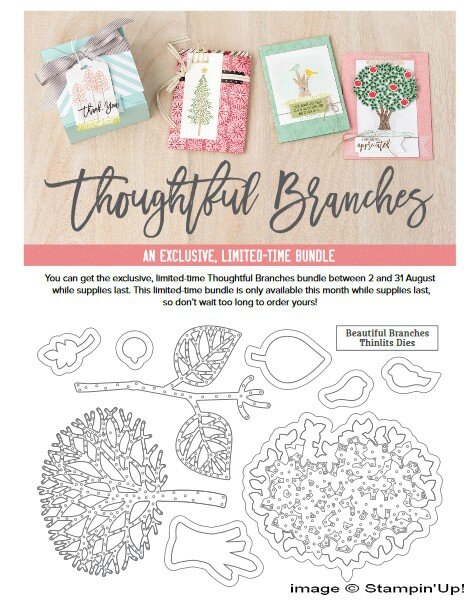 Stampin'Up! will release in August 2nd the brand new excluse stamp set and thinlits dies Thoughtful branches
You can order them as seperated items if you prefer, but when you want both, there is a wonderful bundle that you can purchase through me at 63.25€ (+ shipping if it is sent to your home, free shipping if you order it with the group order, see below!)
please note: This bundle is only available while supply last and I am sure that you do not want to miss it. Send me your order quickly!
And why not buying this wonderful bundle as a reduced price by using your coupons?

Who said Free workshop?
To celebrate this new bundle, and for everyone that will be purchasing this bundle (or seperated items) with me, there will be a free workshop to learn some techniques, share the fun and get inspiration in my house, in Amsterdam. You will receive an invitation for 2! Bring a friend along for extra fun ;)

The workshop date is yet to come, more information at the beginning of August.
The next group order will be : July 15th at 19h (and you can send your wishlist anytime until that date).
Important information regarding the coupons:

Please make sure you have registered Stampin'Up! email addres in your contacts so that you can receive your coupons. They may arrive in your spam folder and you do not want that at all!
Need help or more information on that? please contact me.
Coupon codes

can not

be sent twice. If you loose your coupons code,

we can not help you retrieve them.

When receiving your coupons,

don't forget to write the number on a safe notebook

where you can easily find them in August.

Purchasing with the coupons is only available from August 2nd until August 31rd. After that date, the coupons will not be valid anymore.

Need help, have a question? give me a call or send me a message, I am glad to assist you!
I hope that the sun is shining for you today and that you will have a nice little (or big) crafting moment.
Happy Stampin'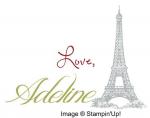 Save
Save
Comments Bonus day, new exclusive BUNDLE and free workshops!