05 septembre 2016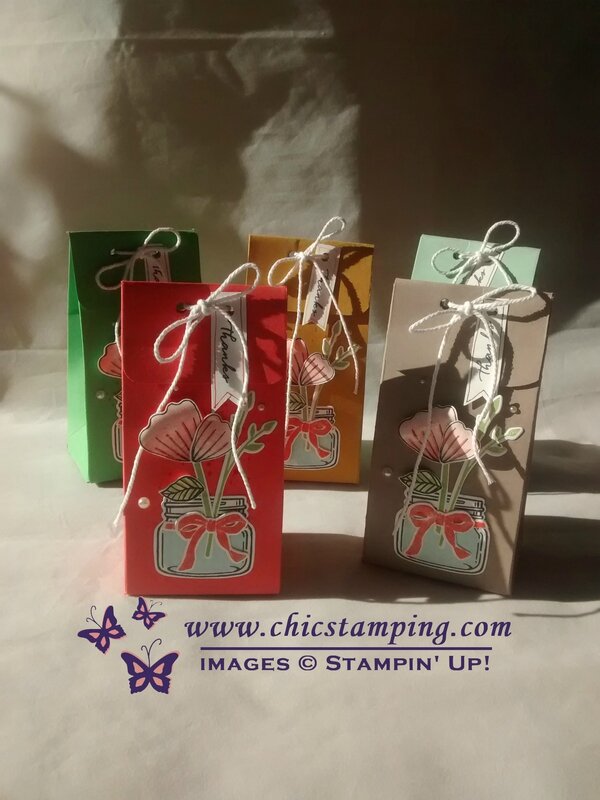 Het eind van de schooljaar is altijd een beetje bezig hier in onze huis en voor de grote zomer vakantie, er zijn altijd veel te doen. Ik heb deze kleine cadeau tasjes gemaakt voor de lerares en zijn assistanten. Zijn deze tasjes niet super schattig?

At the end of the school year, it is always a little bit a rush to meet friends before the big vacations and prepare for some fun summer! And off course, we can't leave school without gifts for the teachers and their assistants. And with all this rush and busy moment, i realized that i didn't show you theses fun gifts bags. Aren't they cute with the little jar and flowers?
Voor deze tasjes heb ik de Stampin'Up! Gift Bag Punch board gebruiken met de 2015-2017 In-Colors cardstock en de inkt pads. Dat was het zo makkelijk. Alle instructies zijn in de punch doosje. Dan ik heb mijn old SU Crop-a-dile gebruiken en witte twine om het doosjes dicht te doen. Voor dat ik de tasjes maakt, ik heb een erg "soft" achterground gemaakt met de Gorgeous Grunge stempel set. Kijk maar hier onder, er is een duidelijker foto voor jullie te kijken.
To make this bags, i used the Gift Bag Punch board with the 2015-2017 In-Colors carstocks and ink pads. It was so easy to do. All the instrucstions comes in the punch box. To close the box i punched holes with my old SU Crop-a-dile and used a white twine to make a bow. But before i make the box, i first stamped a soft background with the Gorgeous Grunge stamp set. You can see more details below.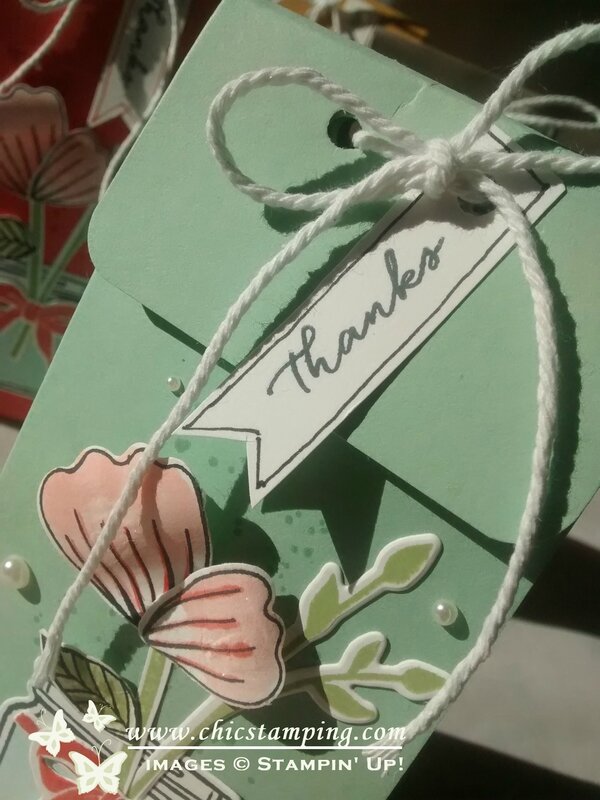 Daarna, ik heb de Jar of Love bundle stempel set en bij passend stans gebruiken op dun witte carstock en de Bunch of blossoms bundle met memento inkt. De bladen heb ik gekleurd met Pear Pizza inkt en Watermelon Wonder voor de bloemen. De watercolor effect is gemaakt met een water pen.
Then, I have used the Jar of Love stamp set and framelits bundle and the Bunch of blossoms bundle too on thick white cardstock with memento ink and a water pen for the watercolor effect.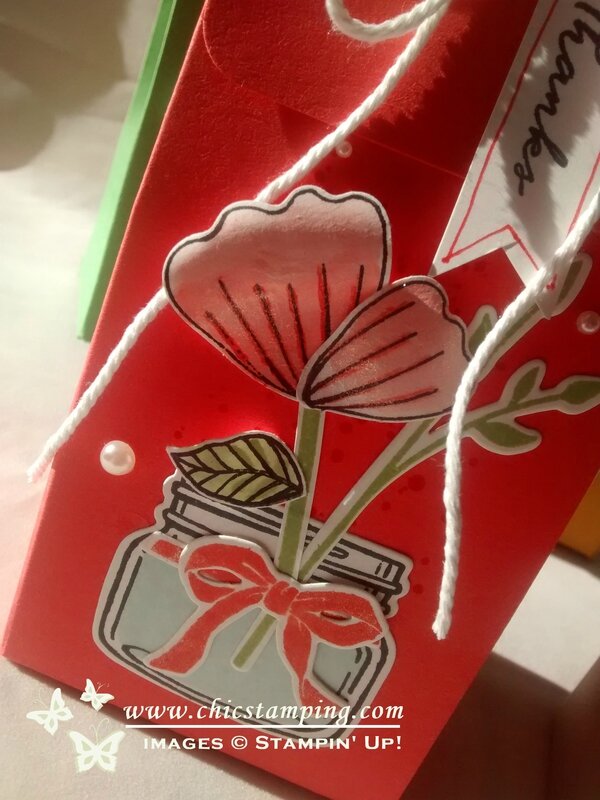 Voor dit potje, ik heb Soft Sky gebruiken.

The water in the pot is inked with Soft Sky.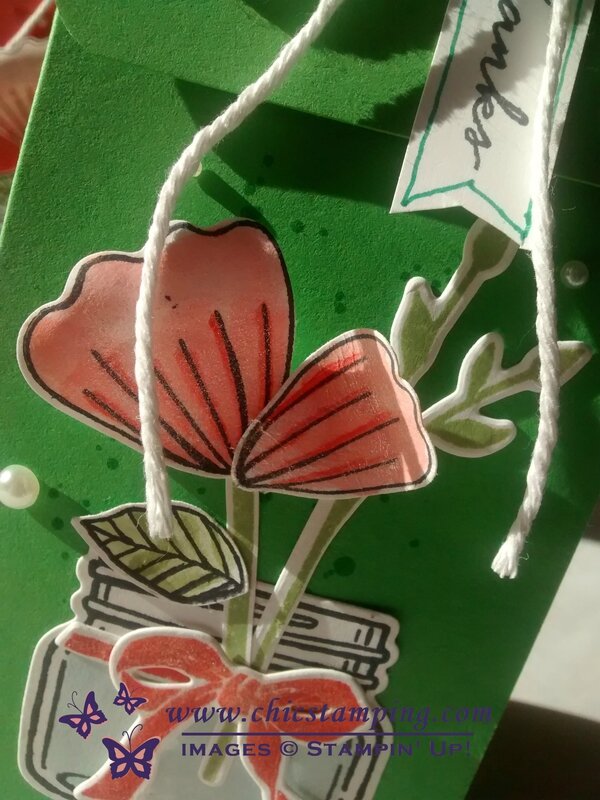 Voor de Chic effect, ik heb een paar Pearl Basic Jewels hier en daar geplaats. Daar kunnen ook jullie de achterground kijken. (gemaakt met Gorgeous Grunge)
And my little Chic effect is made by using a few Pearls here and there for the final touch. On the foto above you can see the soft background.
Willen jullie techniek leren en wat doen met deze gave bundle sets door een workshop? Hebben jullie material nodig of vragen? Neem dan even contact op voor een workshop datum per email Adeline7674@hotmail.com of bel 06.134.179.71.
Bedankt voor tot het eind van mijn bericht lezen. Ik maak nog foutjes maar als een van mijn best vriendin zegt.. dit is "charmant" :)
Would you like to learn some techniques and play with theses great sets? Do you have questions or would you like to place an order? Contact me (see above) and we will plan a great and fun workshop. Do not hesitate to contact me I am always glad to help.
kijk deze week Stampin'Up! actie hier
Download de nieuw herfst/winter catalogus hier
Veel plezier , have fun!
Happy Stampin'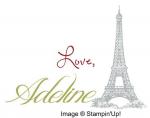 Save
Comments Gift bags with jar of love and more