12 novembre 2016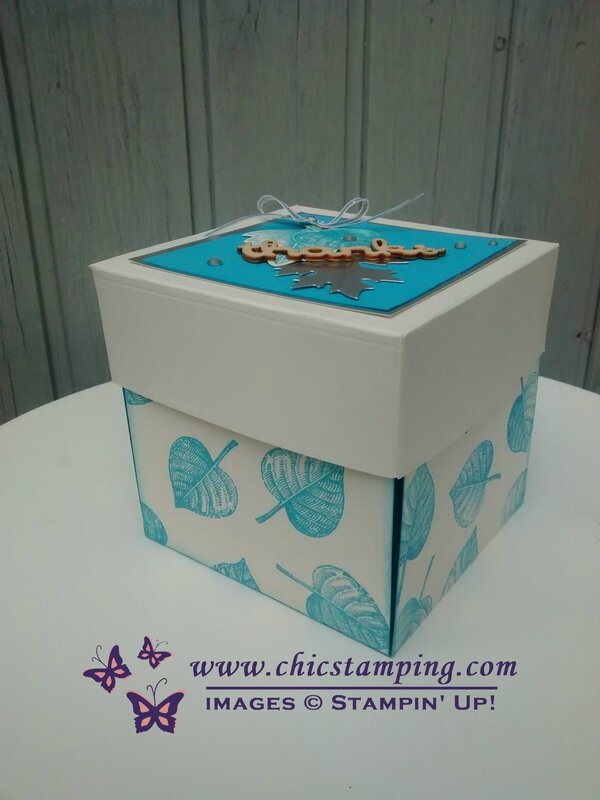 Een kleine bedankt cadeau voor ons lieve Jacqueline die heeft gestopt met ons werken. We gaan je erg veel missen!
A little goodbye and thank you gift for our sweet Jacqueline who stopped working with us. We are missing you a lot already!
Deze Explosion Box is gemaakt met A4 Whisper White witte cardstock en gestempeld met de Vintage Leaves stemple set. Ik heb haar favoriet kleuren gebruiken. Zilver en blauw. Hier Tempting Turquoise.
Die grote Thanks komt uit mijn "gevonden producten" doosje. Dit is geen Stampin'Up! material.
This big Thanks comes from my "lost and found" tresor box. This is not a Stampin'Up! product.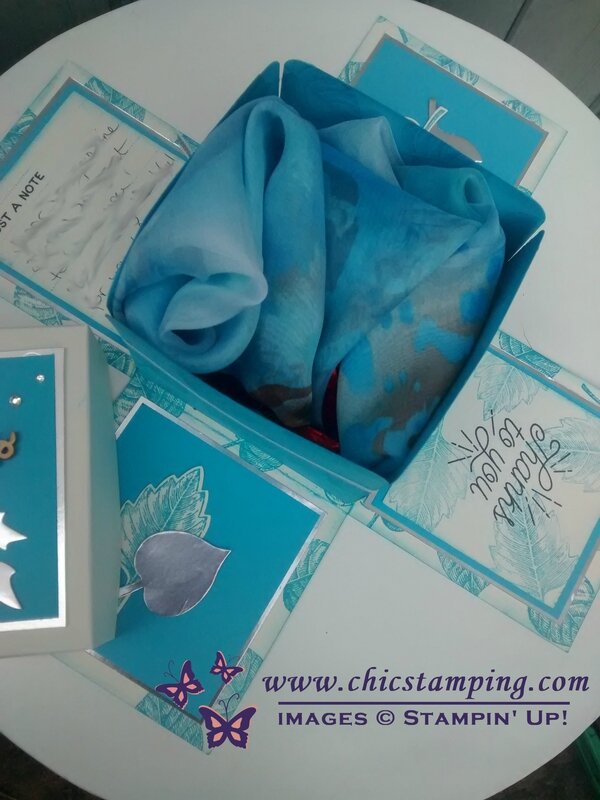 Ik heb een kleiner doosje binnen gemaakt voor mijn cadeautje, een schaal met de Tempting Turquoise cardstock, ook gestempeld. Beide zijde van de A4 witte cardstock zijn gestempeld. Dan ik heb alle 4 kanten versierd met de Silver Foil Sheet paper.
De sentimenten Thanks to you en Just a Note zijn uit de Designer Tin of Card. Alle bladen zijn geknipt met de bijpassend stanzen.
Dit cadeau verpaking doosje was super fun te maken en het duurde maar een half uurtje om het te doen. Jacqueline was erg blij mee!
The sentiments are from the Designer Tin of Card stamp set. I cut all the leaves with our matching dies. This cadeau box was made in just half an hour and was really fun to make!
Willen jullie leren hoe een mooi en creatieve cadeau verpaking "explosion box" te maken? Die zijn perfect voor baby, verjaardag, kerst en wat nog meer! Neem dan contact me op voor een workshop afspraak. Stuur me een mailtje : Adeline7674@hotmail.com
Would you like to create a fun and beautiful box like this one above? They are perfect for every occasion. Think of other themas such as baby gift, birthday, Christmas and whatever occasion you need!. Contact me for a workshop appointment at Adeline7674@hotmail.com.
Er zijn nieuw stempel ochtend gepland bij Chic Stamping Stempel & Coffee ochtend. Alle datum zijn hier. Plekken zijn beperkt, boek het nu!
********************
Nu actie by Stampin'Up! lees meer hier
NU exclusief actie by Chic Stamping. Deze maand een gratis Textured Embossing folder. Lees meer hier.
Nieuw Stempel & Koffee ochtend datum. Lees meer hier.
********************
Happy Stampin'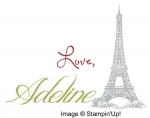 Comments Thank you explosion box