28 novembre 2016
Vaandag is de laatste dag van ons speciaal Online Extravaganza kortings! En voor deze speciaal dag hebben nog meer EXTRA leuk producten op vooraad voor jullie te koop. Maar de best is dat je kan nog alle andere producten kopen met korting tot 40%. (de speciaal producten van Maandag 21 november zijn niet meer te koop met de speciaal korting maar wel aan de gewoon prijs.)
Today is our last Online Extravaganza day and we have 4 extra products on sales! Don't miss our Big Shot Magnetic platform, today only with an extra 35% off! All the other products are also for sale with a reduced price. (except the special 21 november products. They are still available to buy , but at the normal price.)
Hier zijn de EXTRA producten prijzen voor vaandag.
Here are the special prices for today only extra sales!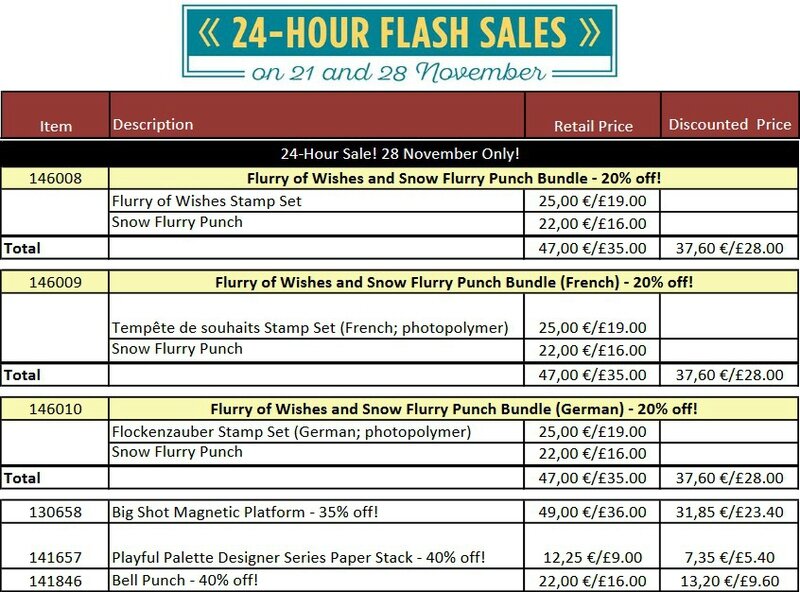 Alle andere producten met aanbieding zijn te zien op dit link op mijn blog or op de Stampin'Up! Website hier.
Check the other products in sales with the 2 links above.
En, onse Magnetic Platform is vaandag met 35% korting! Deze Big Shot product is een "must have"!!
Our magnetic platform is today only with a special 35% off! Don't miss it, it's really a "must have".
Laat me weten voor 20h als jullie willen met de mee-bestelling bestelen. Boven de 60 euros krijgen jullie mijn Speciaal Chic Stamping kado gratis.
The next group order is today @ 20h. With all order above 60 euros, you receive my extra Chic Stamping gift for free.
Stuur mij een email naar Adeline7674@hotmail.com or bel 06.134.179.71. Ik help jullie graag met jullie vragen en lijsje.
Send my your wish list or contact me if you have any question. I am always available to help you.
Happy Stampin'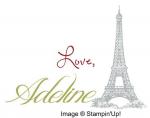 Comments Extravangaza laatste meebesteling en extra speciaal koorting!