18 janvier 2017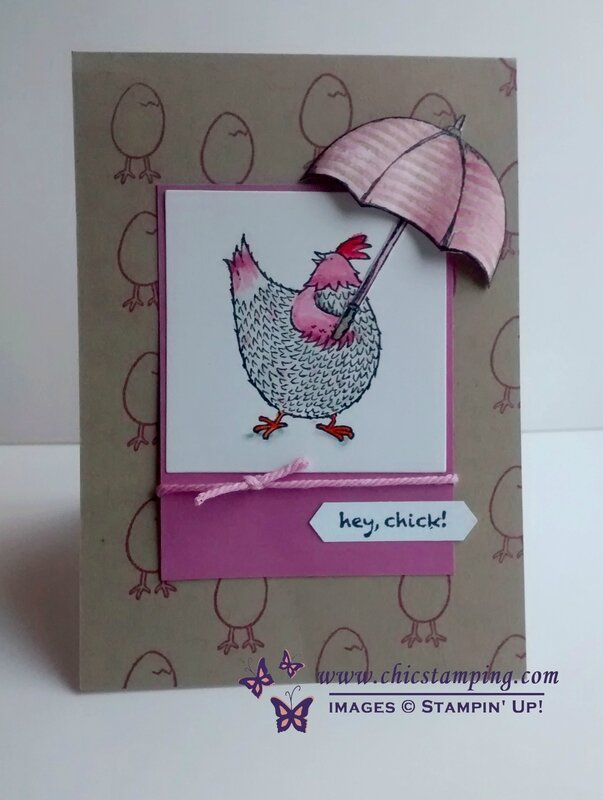 When I received this FREE Hey, Chick Sale-A-Bration stamp set, I knew immediately what I would do with the tiny egg. Use it as a background.
On this card, I also wanted to give to this rooster something to carry, and this umbrella was perfect. It's raining here in Amsterdam really really often!.
So here is my "pink" rooster. A pink rooster? I just wonder what came to my mind? Ha Ha Ha! Before I realize my mistake, I had already entered 2 team challenges, it was too late to start again. Well... this rooster is funny in pink! Don't you think?
Maybe he has dressed up for a Carnaval? Carnaval in France will be pretty soon!
What did I use for this card?
It was very basic!
Stamp set: Hey Chick FREE SAB item.
Bundle: Weather Together.
Cardstocks: Crumb Cake, Sweet Sugarplum and Thick Whisper White.
Inks: Sweet Sugarplum inkpad & refill, Soft Grey, Pumpking Pie and Real Red.
Punch: Classic Label Punch.
Material: Aqua Painters, Multipurpose glue and dimensionals. Thick Baker's Twine, Black Stazon.
To color the umbrella, I used my favorite watercolor technique with my aqua painter, using layers. It really give a great effect.
Nota: The Thick Baker's Twine is a left over from my previous card. I usually dye a good amount of Baker's Twine in once, in many colors. It's easier to use the table for it with a big amount. AND I only mess up my kitchen once in a while ;)
So don't forget to order your refills, they are great to work with! I will come back with another post about it.
This chicken stamp set is so much fun and maybe one of the most popular FREE stamp set. If you would like to get your own, read how below and contact me!
Next group order is : monday 24 January @ 21h (Volgende mee-bestelling)
*****Current Promotions*****
From 60 euros and above, choose one (or more) SAB FREE product. Click here to view.
From 75 euros and above, earn my Chic Stamping FREE gift. (see on the side bar)
The new 2017 Spring/Summer occasion catalog here. Click here to view.
For workshops, orders or information, please contact me at adeline7674@hotmail.com or call me 06.134.179.71.
Happy Stampin'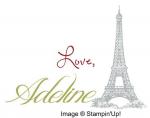 Comments Hey Chick! fun card....