18 novembre 2013

Hi Friends, Today is a grey and cold day outside. The color of the sky inspired me this card. This is another french card ordered by my sister and I hope she will like it. A birthday card for men. When I do cards for men, I have to get outside my confort zone. Not using flowers, diamonds or any kind of embellishment I am used to. This is a great challenge. For this card, I used really few material. A kind of less is more card in fact. Anf I have been using this very large ribbon offered by my friend Marrigje....
[Lire la suite]
11 novembre 2013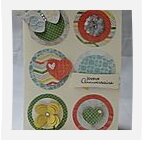 Hi Friends, Sometime I just get inspired by looking around me, and sometime by looking at other crafter work. When I saw this card on Pinterest, I just could not resist to CASe it. CAS has many meaning and one of them means Copy As Shown. So I loved it, I cased it !! When I CASe someone's art, I always give the credit to the person. Unfortunately, I can not remember who made this card and could not find it anymore, so if you reconize your card, please let me know!!! This card was really easy to make. A tiny left over of...
[Lire la suite]
08 novembre 2013

Another 12 weeks of Christmas project for this week. Santa is a few weeks away!! My kido is already feeling the catalogs with all his wishes, Santa will need a truck to deliver them LOL! This week project is a simple but really cute card made with a great stamp set : Wishing you. from the mini occasion catalog. I love this stamp set for his very cut christmas gifts and it is at a very little price too!! Material: Stamp set: Wishing you (Wood 131748, clear 131751)Ink: Daffodil delight (126944) , gumball green (126861), Cherry...
[Lire la suite]
05 novembre 2013

Hi stampers, We have again a fantastic new best of 25 years stamp set this month. Theses are the stamps we receive for free at Sale-a-Bration. They are great stamps. It is possible that you have one or 2 of them already. But remember that the best of stamps are resized so they are indeed new stamps! And they are great to combine, small and big sizes... Have a look at all the Best of 25 years stamp sets here and send me an email if you are interested or Happy Stampin'
04 novembre 2013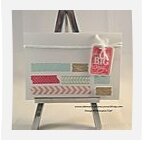 Hi Stampers, This week end I went to visit a friend who has the hugest stamps set collection from Stampin'Up! From almost the very begining 25 years ago that they started. It's so much fun to dig in the sets and try them on! Today's card is one of my favorit set from this year catalog: Tape it . It's a fun stamps set to use for any kind of occasion. False tape is really fashion this year! To complete the card, I made a little tag with the Chalk talk stamp set (this is a bundle and save!!) and a piece of bake twine.. voila!...
[Lire la suite]
01 novembre 2013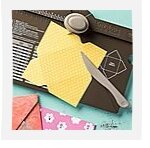 Image ® Stampin'Up! Hi Stampers, Yesterday was the release of the Stampin'Up! punch board. This is a fantastic product and there are so many things to do with. Envelops, mini album, chocolate gift holders ..... possibilities are (almost) endless. If you want to see how to use this product, look at this video and you will be in love with it. If you need more information or would like to try this fantastic tool, just contact me Happy Stampin' Adeline
01 novembre 2013

Hi Stampers, This week projects is a NOEL banner made with the Build a banner kit from the mini occasion catalog. If you want to know how I made it, don't forget to subscribe to my newsletter for the tutorial. This was a really fun project and the kit is absolutetly wonderful, contains a LOT of material and can be used for any occasion. Material: Build a banner simply created kit (133507)Paper: White Velum A4 cardstock (106584) , Glimmer paper Silver (124005) , Winter frost DSP Stack (132183)Ink: Classic stampin' Ink...
[Lire la suite]
24 octobre 2013

Hi friends, This week, until monday 28th October, Stampin'Up! celebrate their 25th birthday with a fantastic selection of 25 stamps set that are at 25% OFF. Isn't it great? If you want to see them all, just have a look at my new Stampin'Up! online shop. You will find them all by clicking on See All on the left side after clicking on the link here If you need more information about them, contact me now before it is too late. Happy Stampin'
18 octobre 2013

What is your favorit way to warp little christmas gifts? I used to make them warped at the shop directly, but then found some not so nicely made. Handmade warps are the best! And they are really easy to do. Today I am showing you a tiny box that can contain really a lot! This are the decorative Window Gift Boxes from the mini catalog (132146). Use some scrap paper to decorate, tie a nice bow and add a message.. voila! In the same way, make gift box for birthday, weddings, babies... and they are really cheap too! ...
[Lire la suite]
16 octobre 2013

I am so happy to annonce you that soon is coming a great new product at Stampin'Up!, allowing you to make flip cards in a flash.. Really! I have been making this cards few years ago, it was taking quite some time and making a lot of waste... Now, it is super easy! Open it and the center move to reveal another message, another design or whatever you would like to place behind. As I can't tell you right now what I used for this card, I 'll share this info with you next week. If you are curious to know how to...
[Lire la suite]