17 juin 2018
Hi There,
This message should have been on the blog days ago, but for some unknown "out of my control" reason , it keeps deleting itself. Weird right? Anyway, I won't give up trying, because this card is way too cute and I want to show it to you as I promised it on my Facebook page. Did you know I have one? Check on your right and clic on the logo, it will bring you there!

This card travelled to France for mother's day. I made 2 different ones but lost one image. Hopefully I can receive the missing photo... we will see.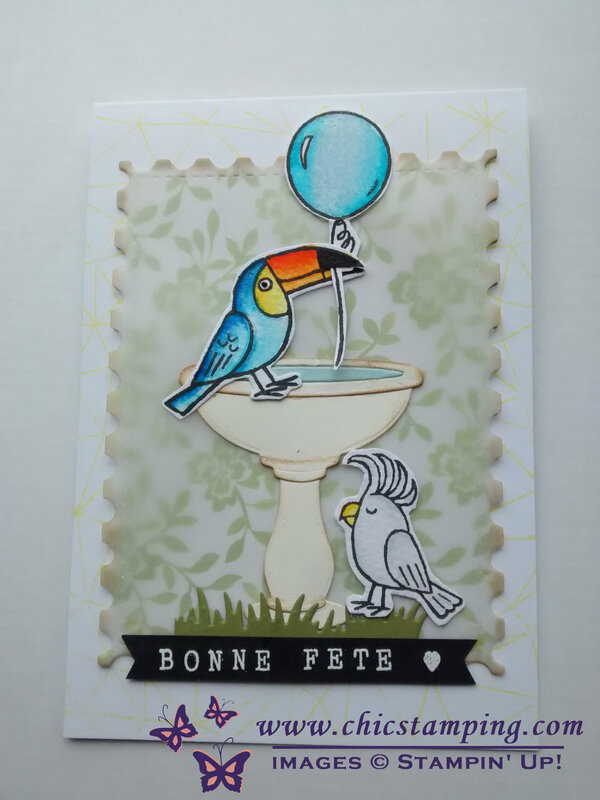 There is a little story behind this card. When I bought this Stampin'Up! Birds stamp set, I envisioned the birds in a garden. But well, after searching in my stash, I don't own any branches or trees that may fit with these birds. So this set stayed taking dust on my shelve. Until My Favorite Things releases the birthbath die... BINGO! this is what I needed. Add to this the grass from another great Stampin'Up! set (Picknic) and voila. We have a happy mom ;)
Supplies:
Stamps: Stampin'Up!
Dies: SU! and My Favorite Things
Papers: all SU! except white paper (sheena)
Inks: distress and ZIG makers
Embossing powder : SU!

Do you like this card?
Happy Stampin'
Have a wonderful day!
Adeline
Comments Fun little birds