22 juillet 2018
Hello Peeeps!
It's Sundayyyyy YAY!
I have made another fun tag a few days ago, and I really really love it. It's yellow and really vibrant. I love this little girl's dress because it looks 3 dimensional without doing anything. Ok I wanted some more layers so I added some few transparent yellow Nuvo drops. Also because I had the perfect teint... so why not?
I used a Carabelle Studio stamp for the background with my favorite Stampin'Up! Island Indigo blue. Once dried, I used a stencil with Sostrene Green modeling paste. I like it because it's semi-transparent. You will not find this paste anywhere. I tried to buy some more for a friend but this shop only sells little amounts of the same product and when it's gone it's gone ... I wish I knew that before!
The doll was colored with Squeezed Lemonade distress ink and I used vintage photo around the ages. Underneath the doll is my favorite use for velum.

The small talk stickers from Tim Holtz are so funny! If you can't read it , this one says:


If it requires a pant or a bra, it's not happening today.
It totally cracks me up LOL!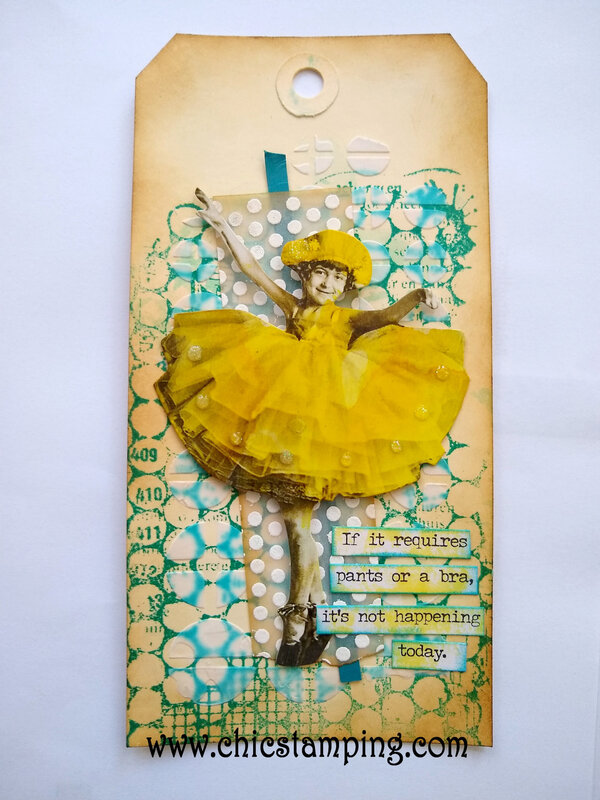 Supplies:
Stampin'Up! ink, velum, dot stamps and paper
Ranger: distress ink, manilia paper (tag), small talk stickers and paper doll.
Sostrene Green: modeling paste.
Stencil: Tim Holtz #87
I hope to have inspired you today with this tag. I encourage you to try creating backgrounds, it's a lot of fun.
If you have question about the techniques, I'll be happy to help.
Happy Stampin'
Adeline
Comments Yellow dress tag