22 juillet 2018
Hello Peeeps!
It's Sundayyyyy YAY!
I have made another fun tag a few days ago, and I really really love it. It's yellow and really vibrant. I love this little girl's dress because it looks 3 dimensional without doing anything. Ok I wanted some more layers so I added some few transparent yellow Nuvo drops. Also because I had the perfect teint... so why not?
I used a Carabelle Studio stamp for the background with my favorite Stampin'Up! Island Indigo blue. Once dried, I used a stencil with Sostrene Green modeling paste. I like it because it's semi-transparent. You will not find this paste anywhere. I tried to buy some more for a friend but this shop only sells little amounts of the same product and when it's gone it's gone ... I wish I knew that before!
The doll was colored with Squeezed Lemonade distress ink and I used vintage photo around the ages. Underneath the doll is my favorite use for velum.

The small talk stickers from Tim Holtz are so funny! If you can't read it , this one says:


If it requires a pant or a bra, it's not happening today.
It totally cracks me up LOL!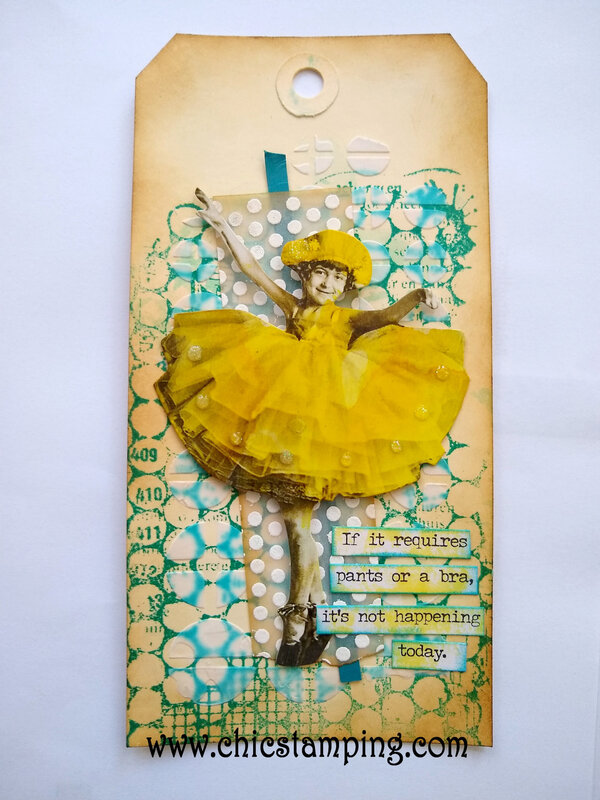 Supplies:
Stampin'Up! ink, velum, dot stamps and paper
Ranger: distress ink, manilia paper (tag), small talk stickers and paper doll.
Sostrene Green: modeling paste.
Stencil: Tim Holtz #87
I hope to have inspired you today with this tag. I encourage you to try creating backgrounds, it's a lot of fun.
If you have question about the techniques, I'll be happy to help.
Happy Stampin'
Adeline
18 juillet 2018
Hello friends
Another #beforethepen journal page. I love getting all my background stamps out of the dust to create my pages and use my "DIY washi" and my scraps. It's actually kind of fun to make.
This page is not so busy and looks a bit plain but when you click on the photo, you see much more the background. IRL, it's great.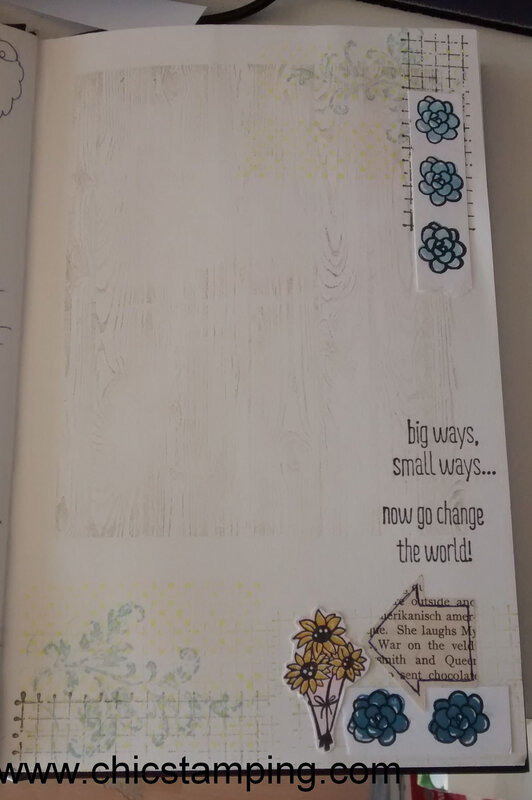 Supplies: 100% Stampin'Up!
What do you think?
I hope you can cope with the heat. Here it's about 30 degres inside the house, I barely can function before midnight... it's far too hot. What is the weather like for you?
Happy Stampin'
Adeline
15 juillet 2018
Hi Stampers,
Happy Sunday!
What's the best way to travel around the world than going away with a camping car? This is what a friend of mine is doing every time she can. I wanted to send her a little notebook to record her traveling memories and I had the perfect stamp set for it.

I changed this fun little foodtruck into a camper. Isn't that fun?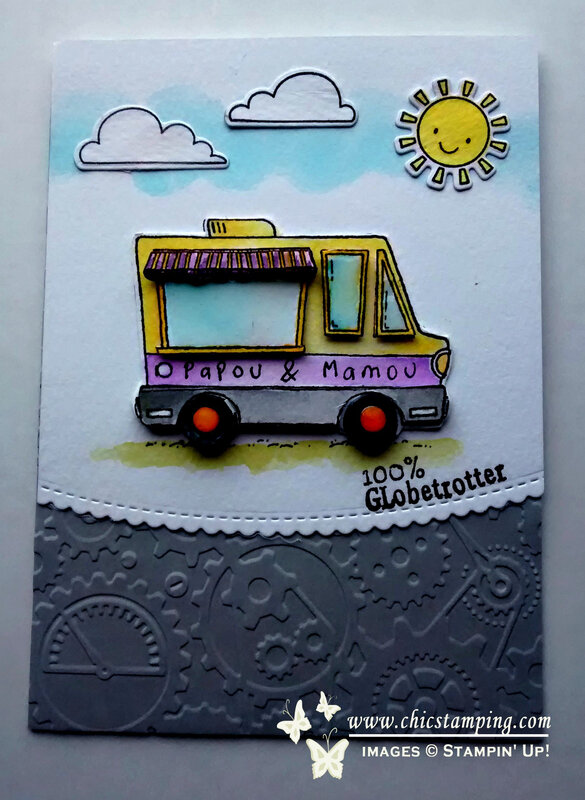 I thought it would be interesting to make a card with a 3D truck so I have stamped the food truck 3 times and cut the wheels 2 times and the windows 1 times and the "marquee" above the big window 2 times. Stick all the layers and that makes a nice 3D. I wish I had a closer look photo to show you.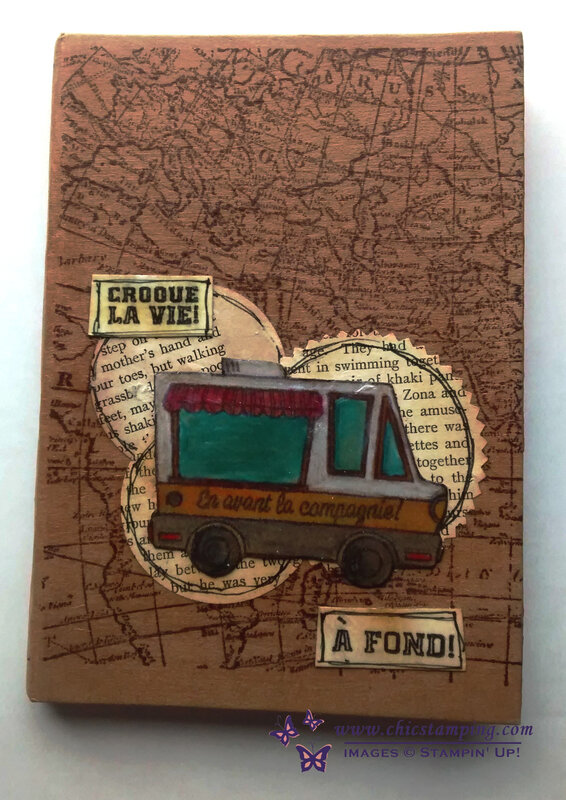 The notebook ended up darker than intended. I wanted to make it kind of waterproof so I used a medium gel over the stamp and it darkened all the colors. It's a learning process, I won't use that method again.
But it's ok because my friend loved it anyway. I hope she is using it right now.
Supplies:
Stampin'Up!, Lawn Fawn and a no brand stamps sets for the sentiment.
Distress inks.
Cuttlebug embossing folder.
Old book paper.
Notebook from Hema.

My favorite way of traveling is to take the train. What's yours? Car? Plane? Boat? Bike maybe?

The most important thing is: No matter where you're going to as long as you're on your way.

Happy Stampin'
Adeline
13 juillet 2018
Hello friends,
This week is a page I made very recently with a photo I made quite a while ago. Ahhh when kids decide that today is not the day, it's not the day, right? And since we stampers don't only record the joyful days, here is a sad one.
I honestly can't remember what happened but I took the photo and here we go....
" No matter what, my son, you will always be my star ;) "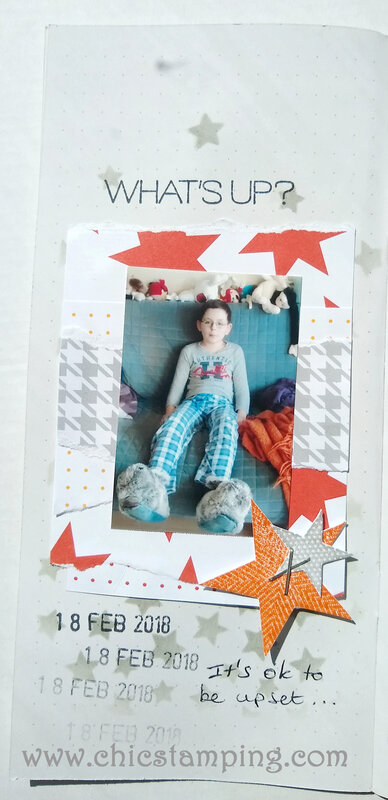 Supplies:
Stampin'Up! Stamps, star stencil and inks
Twee Thee papers (big red stars)
What is your favorite subject to scrap? For me is my family and nature. And you? Let me know in the comment , I love reading them. If you have any question please ask, I'll be happy to help.
Happy Stampin'
Adeline
10 juillet 2018
Hello Peeeeeeps!
I have no idea why Hello Peeps is making me so much laughing when I hear it... People have a kind of sunshine in their mouth when they say that.... I think it's fun and I hope you too.
So to wish you a happy Tuesday, and because I know many of you loves butterflies, this is what I want to share today. I made this fun tag with Rose Gold Butterflies. They were there, on my desk, lost on a paper, itself lost in a pile of scraps since a couple of days... when I needed a piece of white cardstock, they magically appeared. A white sheet of paper covered with black butterflies. A couple of tricks later, this is what they became....

I used only 3 and they were about 12... so may appear again one day on a page or tag or who-knows-what, stay tuned!
Supplies:
Tim Holtz butterflies stamps and dies, distress inkt, Tag BigZ die.
Scrapmalin washi tape
Stampin'Up! vanilia paper , text stamps and Rose Gold embossing powder.
Let me know what do you think of that tag ;)
Happy Stampin'
Adeline
08 juillet 2018
Hi crafty peeps!
Today is another very warm day and we have a birthday to celebrate, YAY! The house is decorated and soon a cake will bake in the oven, but right before that, I want to share another #beforethepen page with you.
Once again, I use bits and pieces from my craft box full with "i can use that bit later, I won't throw you lovely paper... stamp.. brad..you-name-it" stuff. And it's fun and it works in my journal AND i don't throw anything YAY. But since I do multiple stuff , not just one journal, that box always fills up with new bits and pieces... I can't help it haha!
That was the page before I start writing. BUt well, it seemd that something was missing. So while writing, I had to had a few bits of scraps. I save you my writing and message that only interest me. (that's why it looks weird and blurd on the second sneak peek haha!)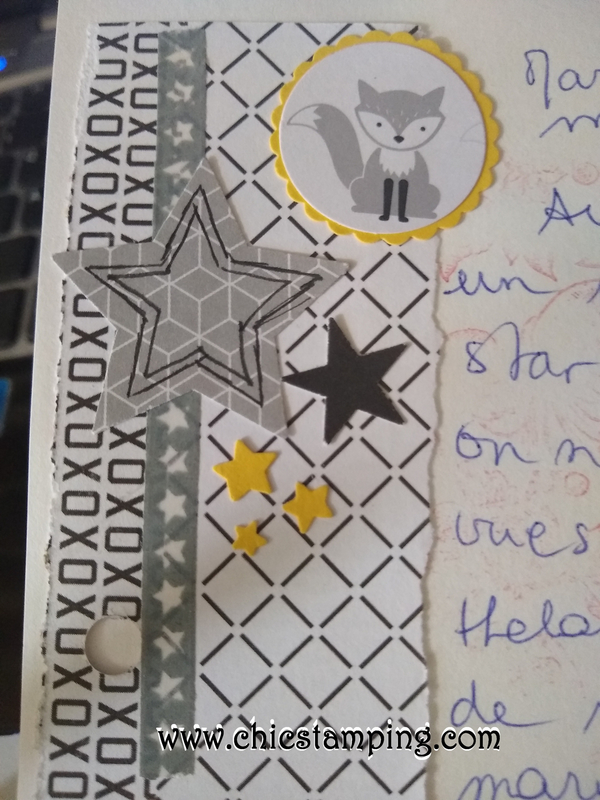 Theses little stards really had the little "touch", love them!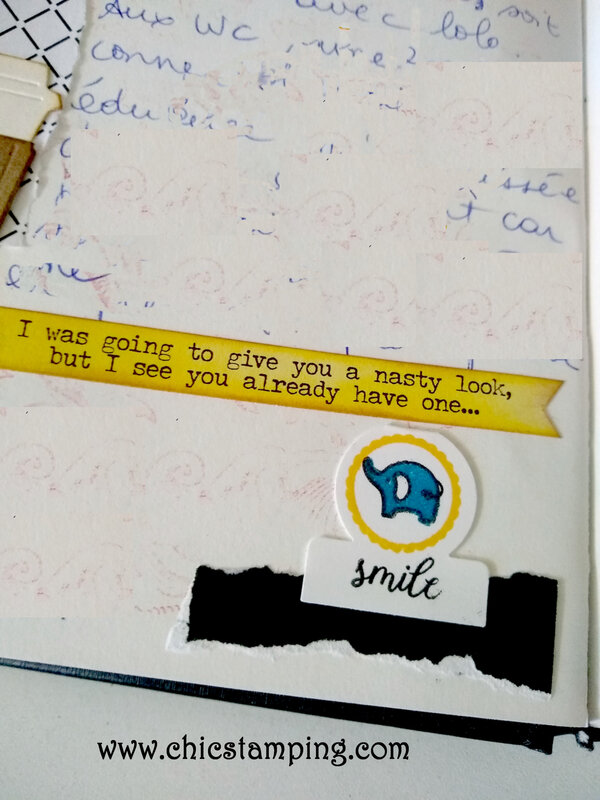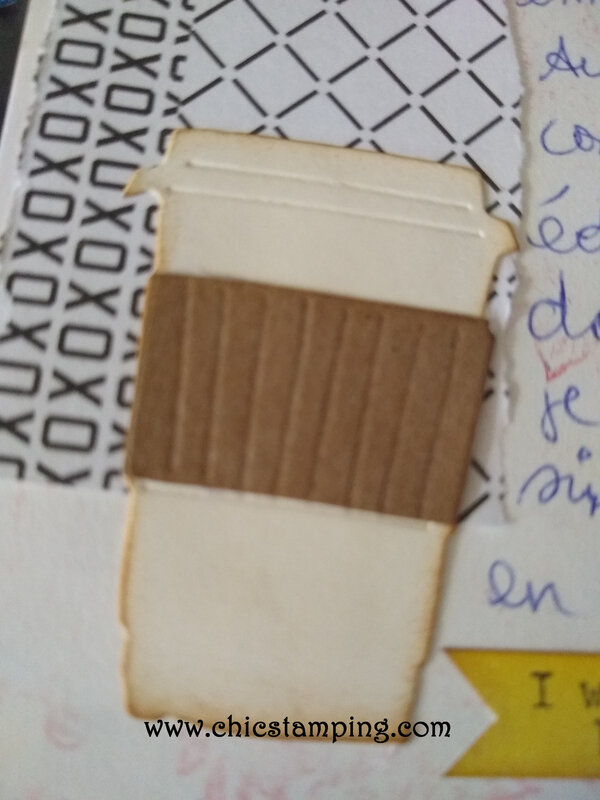 It was a fun page to make again, I love it. When I flip through the album so far, not all double pages are coordinated but all pages are well balanced, if that makes sense.

Supplies:
Mini movers & shakers + text sticker: Tim Holtz (coffee cup)
Punches, grey dsp + fox, and stamps: Stampin'Up!
Black and White paper : from who knows who , old stash
Washi stars: Action
I hope you like my message page. If you have any question , please feel free to pop them under or send me an email.
Happy Stampin'

Adeline
03 juillet 2018
Hi stampers,
Happy Saturday!
What's about a fun little card today? We haven't got any rain lately and we have to water the garden a lot, and it's quite rare to have so many days in a row without a rain shower. The veggies are suffering great time!

This little face is making me feel happy. Don't you like this little chick too? So fun!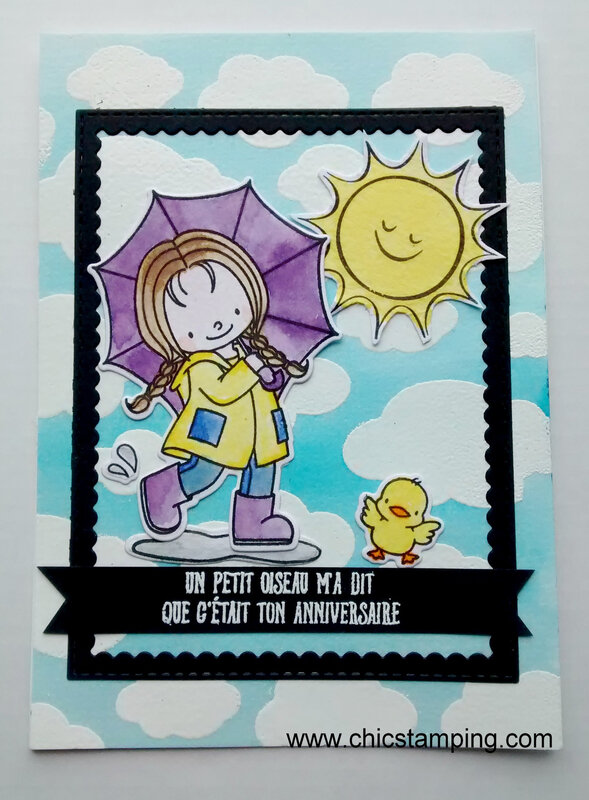 The background was made at the same time that the tag you saw a few days ago .
You probably recognize the Lawn Fawn stamps with this cute little girl and the sun. The sentiment is from the Drôle d'Oiseaux from Stampin'Up!
I used stampin'Up colors for the little girl and the chick.


If you have any question, contact me and please leave a little message under this card, I always appreciate them.
Happy Stampin'
Adeline
01 juillet 2018
Hi Everyone,
I am a little bit late completing this TN journal I started in 2017 but since I have made this little tiny change in my craftroom "that change everything", I am accomplishing miracles in completing craft projects. I am so happy I see some of them completely done.
Here is one of the page I finished recently. I am planning to make a video to show you the full book, but in the meantime will show them here. In no particular order too... Well it's me, Miss Messy :)
I love this format. No big binder as I used to have with project life and you can just make a page whenever you feel like it. A whole year is fitting in my TN, I was not really crafty.
Well what do you think? I had really a lot of fun making it. Click to enlarge to see the details of the beauuuuutiful Stampin'Up! snowflakes... luuuvvv them! I have used also a great cheap modelling paste that is very fluid and dry semi-transparent. If you have one of the SØstrene shop around wherever you leave, they are around 5 euros for 250ml. Awesome price if you ask me.
Supplies:
stampin up dies, vellum and stamps
old book page
SØstrene modelling paste.
Are you using a TN too? What is your favorite support for crafting? Let me know in the comments below :)
Happy Stampin'
Adeline
28 juin 2018
Hi friends & stampers
With this lovely weather that we have here in Amsterdam, I feel like changing my craft support. At the moment, I work in my TN journal and make some cards but a few days ago, I felt like doing something different. What's about tags? I made some tags years ago and they are fun to work with.
What do you think of this one?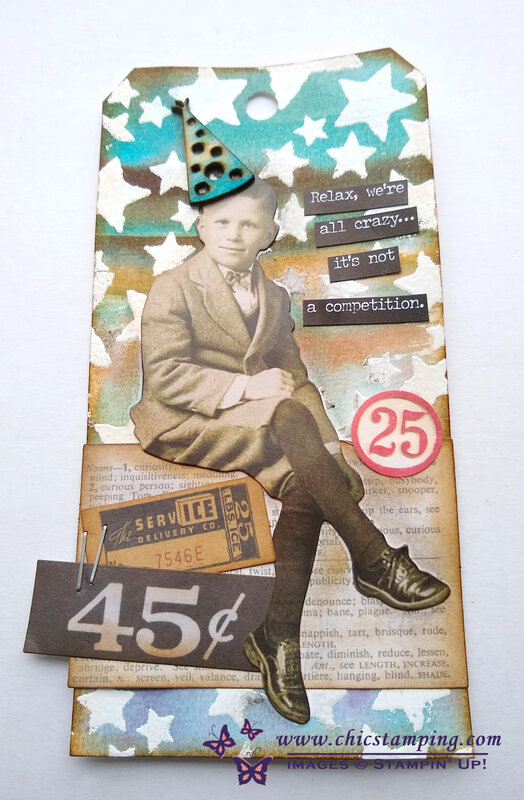 Weeks ago , I let my ink palette fall on the table and all the colors mixed. I tried to find a way to save as much as possible these colors and it appears to me a great idea to create backgrounds. I took watercolor papers and create backgrounds with stencils and white embossing powders then used a paintbrush to make strokes. The tag was ready to decorate.

I loved making it and will make some more soon, without dropping my tablet again this time ;)
supplies:
99% Tim Holtz
+ wood veiner from Action , old book and aladine white embossing powder.
If you know the brand from the star stencil, please let me know ;)
Happy Stampin'
Adeline
22 juin 2018
Hi stampers,
I am always trying to find a way to use my stamps beside making cards and I always wanted to start a Art jounaling book. So I recently bought a regular notebook and turned it into an art journal. The paper quality is not the best with 150 gsm but when I glue 2 pages together it's more than ok to have fun with stencils and of course my background stamps.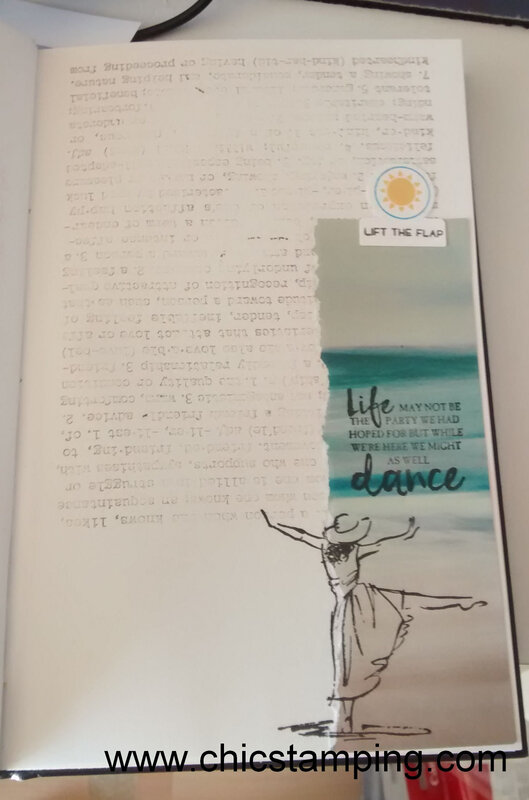 Here is one of my favorites pages. I used an old background stamp from Stampin'Up! combined with some papers and bits and pieces that I keep in my scrap pieces box. I never throw the things I make in too big quantity or even strips of papers and it's a great way to use them.
I own many stamp sets that have very tiny stamps and it's a lot of fun to create a kind of washi tape with them. They find a fun place in my pages. Here is another one using one of my home-made-washi-tape: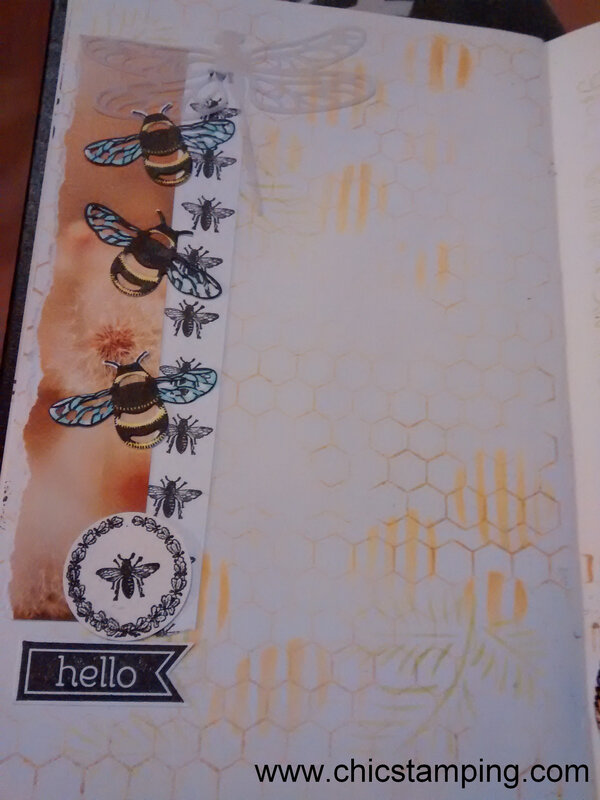 Supplies: all Stampin'Up! except the little stamp "lift the flap" from Lawn Fawn on the first picture.
Do you also make an art journal notebook? Are you also a DIY washi addict? Since I starting making them I am having a great fun searching all my stamps sets to find the smallest stamps to make more washi.
Now it's time to write my journaling ...
Happy Stampin'

Adeline