16 juin 2016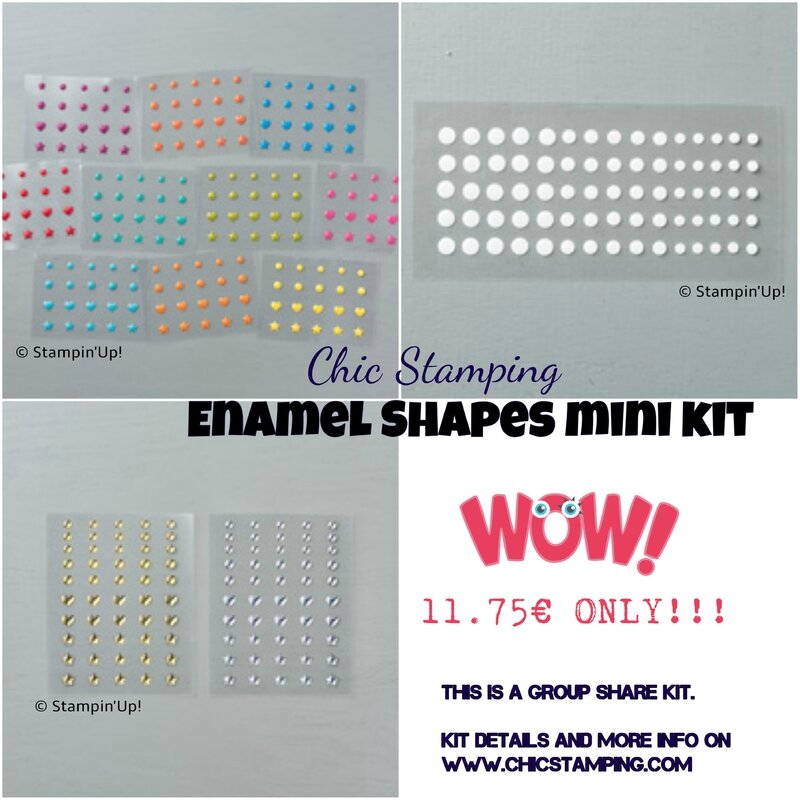 Have you seen all the great little enamel shapes in the catalog page 177? I litterally felt in love with them and knew immediately that I want them all! All theses great little shapes in every Stampin'Up! color family! (except the neutrals) and the sherry on the cake, they also come in the new 2016-2018 In Color.
Do you want them all too???
I have put together for you a fantastic little kit that will allow you to have them all, without having to pay the full price for ALL the dots. This kit will be sent to you when you place your order with me and by ordering this kit you will only pay 11.75€. See below how to order.
~~~~~~~~~~~~~~~~~~~~~~~~~
THIS KIT CONTAINS :


Brights, Regals and Subtles
30 HEARTS, 30 STARS, 30 MINI CIRCLES 30 SMALL CIRCLES = total 120 shapes.
2016-2018 IN-COLOR
10 HEARTS, 15 STARS, 10 MINI CIRCLES, 5 SMALL CIRCLES = total 40 shapes
METALLIC SHAPES gold and silver (2 each) :
4 HEARTS, 6 STARS, 4 MINI AND 6 SMALL CIRCLES = total 20 shapes.
White perfect accents:
5 MEDIUM, 5 SMALL, 5 MINI CIRCLES = total 15 shapes.
that's make a total of 195 enamels shapes for 11.75€ ONLY!!
Please note: This kit is only available by Chic Stamping and is not a Stampin'Up! offer. This kit is only available and can only be sent to The Netherlands, France, Germany and UK. If you are not living in one of theses countries, please do not place an order.
~~~~~~~~~~~~~~~~~~~~~~~~~~
What to do with theses enamel shapes?
Enamel shapes are a fantastic little addition to each project. You can use them the exact same way you would use the Rhinestones or the Pearls. They are adhesive-backed too! They are perfect to highlight a sentiment, use on a photo in your Project Life album or on a card above or around a design. The sky is the limit to your creativity!
~~~~~~~~~~~~~~~~~~~~~~~~~~~
How to place your order:
The group order will be placed on July 1rst.
The kit order will only be possible when 5 persons join the group kit order. Under this number, I will not be able to make a share.
So do not hesitate to share this kit offer with your friends!!!

You can add any other item to your order (optional). Your order will be directly sent to you (shipping is 5.95€) and the kits* (shipping and handling 2.50€ for Netherlands **) will be sent seperately when the order will be delivered to me.
Shipping is always free when your order is delivered to me in Amsterdam and you want to come and pick it up in my house. This is available for the kits too!
With each order from 60 euros and above (kit not included), you can choose between:
an extra free gift from Chic Stamping. (1 pack paper doilies)
OR
Free shipping for the Chic Stamping Enamel Shape kit (save 2.50€)
With each order from 100 euros and above (kit not included), you can choose between:
Free shipping for your product order (save 5.95€)
OR
Free kit shipping + an extra free gift from Chic Stamping. (1

new

solid Baker's Twine, you choose the color!!! page 179.)
You may order as many kits as you want and order the kit only (without an extra order).
** Shipping costs for France, UK and Germany, please contact me.
To place your order, please send me an email at adeline7674@hotmail.com prior June 27th.
Please note: seperated order do not qualify for the free gifts or free shipping when the order is sent to you.
~~~~~~~~~~~~~~~~~~~~~~~~~~~~
There was an Inkpad of your choice to win in the new In-Color 2016-2018 collection last month and we have a winner!!
The winner is.....
Bianca Rebel
Congratulation Bianca! Please contact by email me to receive your price.
~~~~~~~~~~~~~~~~~~~~~~~~~~~
Do you have any question? comments? do not hesitate to leave a message below, contact me by email or to give me a call at 06.134.179.71.
Si vous avez des questions n'hesitez pas a me contacter, j'y repondrai avec plaisir.
Hebt u een vraag? Stuur me een e-mail. Ik zal mijn best doen om u te beantwoorden in het Nederlands ;)
And don't forget to share this message with your friends too !!
Happy Stampin'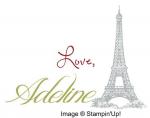 Comments Mini Enamel Shapes KITS and a winner!