05 février 2017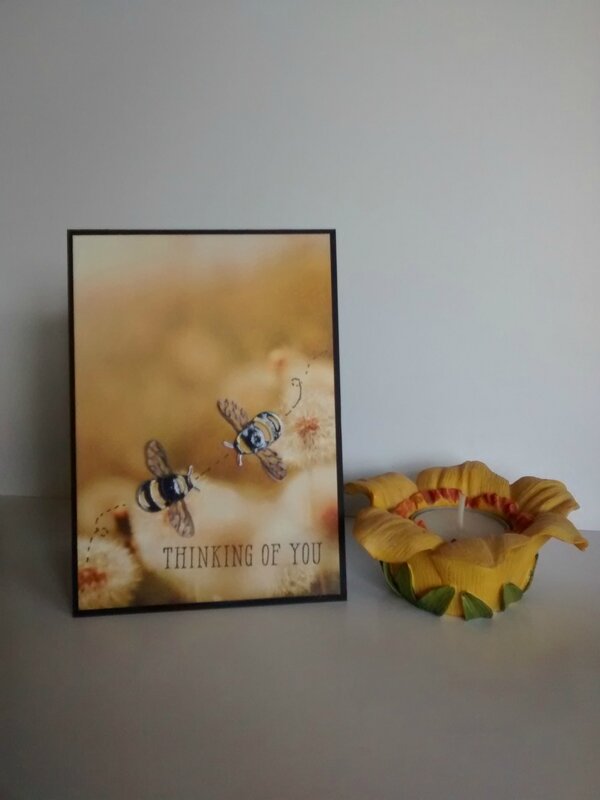 This Super Simple Sunday project was done in a flash, really! A sheet of our beautiful Serene Senery DSP and 2 adorable bees from the Dragonfly Dreams stamp set and framelits was all I used to decorate that card. The sentiment comes from the Window Shopping stamp set. (Both sets are bundles with 10% off! don't miss the deal, available until may 31 only!!)
To create this card:
Stamp 2 bees with Memento ink on a scrap piece of Whisper White cardstock, then use your bigshot to cut them with the matching framelits. Cut off the wings.
Stamp 2 more bees into Vellum. Cut in the Bigshot again, then glue with the Fine-tip glue pen.
Use a yellow marker to color the bees, I used Crush Curry.
Glue your bees, draw some dotted lines with your Project Life pen (They come in a pack of 2. I used the Nr5, I think that Nr1 was too small)
Tip of the day: When using the Fine-tip Glue pen, I realized that if you put too much of it, it will dry clear and shiny on your project. It has happened to me many time, and you can't remove it. It stay for good :) . Then looking at the result and the bright spot that it leaves, it made me thought of our Crystal Clear bottles. Sadly theses are retired but wait! Now we have another product that does the same effect!! Isn't that great?
On the bees, I applied a generous amount of the Fine-tip Glue pen to obtain a 3D effect and let it dry over night because I did it in the evening, but it dries much quicker than the Crystal Clear, so it's a double win. The fine tip makes it also much easier to apply too!!

Plus this glue is really inexpensive, you need so very little to glue and it glues SO strongly. I higly recommand you to add it on your wishlist!
A Tip from Sara Douglass, our CEO at Stampin'Up!. This week she shared a video showcasing the Fine-tip Glue pen and how she simply opened her almost empty bottle and add drops of ink refills inside. She then had an equivalent of Slime for kids, this green glue thingy thing that they love so much. (thanks to the stars, my kid hates it!)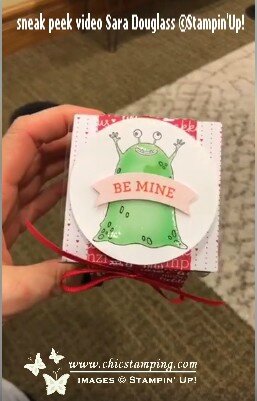 Can you see how shiny it is on the left bottom? Well the whole monster is, and it looks 3D too!
Stamp set: Yummy in My Tummy
It's funny how we get the same idea at almost the same time, don't you think?
*****Current Promotions*****
From 60 euros and above, choose one (or more) SAB FREE product. Click here to view.
AND From 75 euros and above, earn my Chic Stamping FREE gift. (see on the side bar)
The new 2017 Spring/Summer occasion catalog here. Click here to view.
****Current Stamping moments****
Tuesday mornings and Thursdays evenings.
I had request for Wednesday's mornings too, are you interested? contact me!!
For workshops, orders or information, please contact me at adeline7674@hotmail.com or call me 06.134.179.71.
Any questions about today's project? Just ask in the comment and I will come back to you with all my secrets. I'm glad to help and I'm glad to share! Please don't forget to add your email in the comment or you won't receive my answer.
Happy Stampin'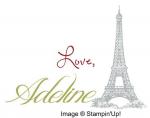 Comments Super Simple Sunday Projects serie #2