07 février 2017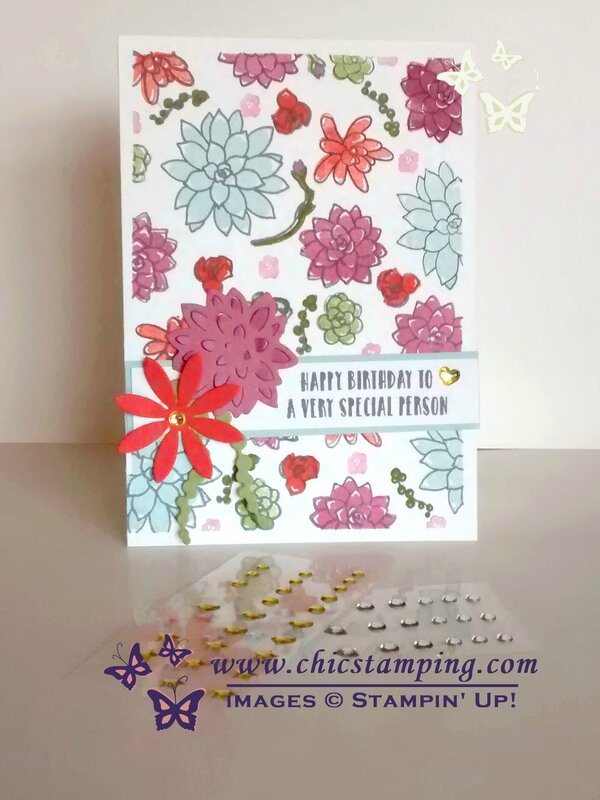 Ik heb deze kaart gemaakt met de Oh So Succulent stempel set, en leuk DIY Designer Series Paper zelf gemaakt in enkele minuten.
This Oh So Succulent stamp set is part of a beautiful serie in the Spring / Summer catalog. There is a nice bundle (stamp + framelits) with 10% off, a beautiful garden kit, ribbons, DSP... It caught my eyes and it was "Love at first sight", really!
I wanted to use the stamp set to create the DSP myself. I have the beautiful matching DSP but I also like doing my backgrounds myself, playing with the inks and doing my own design.

This card was fun to make and since there are 30 stamps in the set, yes! 30, there are endless possibilities to play with! The set comes with nice sentiments too! So the only addition I made for this card was using 2 enamel dots in the silver/gold collection. That's it!
The white edge around the card was made with Post It notes. My card looks like a 3 layers card, in fact there are only 2.
TIP of the day: By using the stamp off technique, my card looks like there are 6 colors, but in fact I only used 4. It's a great way to have "more" colors on a card even if you don't have many inkpads.
Material for this card:
Oh So Succulent bundle.
Whisper White and Soft Sky cardstocks.
Inkpads: Sweet Sugarplum, Old Olive, Soft Sky, Tangerine Tango.
Gold Enamel dots.
Memento inkpad.
*****Current Promotions*****
From 60 euros and above, choose one (or more) SAB FREE product. Click here to view.
AND From 75 euros and above, earn my Chic Stamping FREE gift. (see on the side bar)
The new 2017 Spring/Summer occasion catalog here. Click here to view.
****Current Stamping moments****
Tuesday mornings and Thursdays evenings.
I had request for Wednesday's mornings too, are you interested? contact me!!
Please note: Due to my workshop space renovation, the Stamping moments are in hold for at least another week. All my excuses for the inconvient. They will return very soon and I am sure that you will love the changes!
For workshops, orders or information about this card, please contact me at adeline7674@hotmail.com or call me 06.134.179.71.
Vragen, Bestelling of informatie? Neem contact mee op.
Happy Stampin'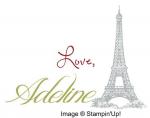 Save
Comments DIY Oh So Succulent card and DSP