03 novembre 2016
Toen ik heb de Pretty Kitty stamp set in de catalogus gezien, ik wist dat ik moet het hebben. Deze katten zjin zo schattig! Ze maken me lachen!
When I saw the kitten in the Pretty Kitty stamp set in de catalog, I knew I had to get them, they are so cute! This one really makes me laugh!
Voor deze kaart, ik heb de "kiss" techniek gebruiken voor het huisje. Het is super leuk om te doen. Hebben jullie al geprobeerd? Deze techniek is een deel van de volgende Stempel Ochtend klass in Amsterdam EN Amstelveen!

For this card, I used the "Kiss" technique to stamp the little house. It's so much fun to do. Did you already try?
This technique will be part of our next project during the Stamp and Coffee morning in Amsterdam and Amstelveen!

Kiss Technique:
(voor Nederlands, gebruik google translator or bel me!)
The kiss technique is super fun to use with plain stamps. You can personalize all your plain stamp using a second stamp with designs on it. For this card I used the house from Sweet Home stamp set* and the Hardwood background stamp. You need to use two inkpads, a pale color and a rich color, unless you use only one color with the stamp off technique** (see the stamp off tips and technique here)
Place the house stamp on your clear blog then put it on your table. Ink it good (here i used Crumb Cake).
Take your second stamp set (Hardwood) and ink it very good as well. Put it on your table.
Now "kiss" your stamps: Take the house stamp and place it slowly on the Hardwood stamp,

without moving it around

, and press firmly. Remove the house stamp gently by

lifting it up

carefully.
Look at your house stamp, you see now that there is 2 inks and a design on it, cool right?
Stamp on your paper and let the paper absorbes the ink for a couple of seconds. With photopolymer stamps, it is also recommended to use a percing mat underneath.
Tada.... Any question? leave a comment below, I'm glad to help!
* the Sweet Home stamp set is now available in the autumn/winter catalog as a bundle. Save 10% when you purchase both the stamp set and the matching dies!
** Some stampers call this technique "off Stamp".. well let's say it's my "french touch" to name it upside down LOL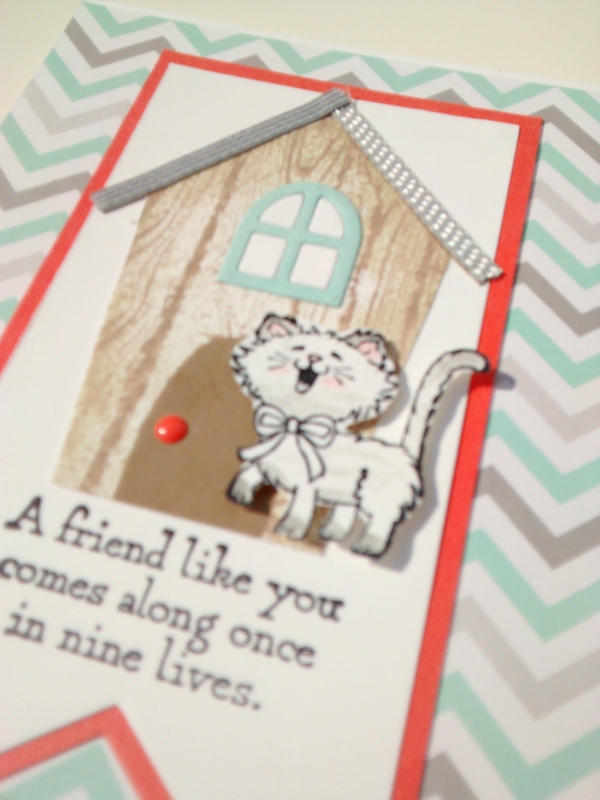 Gebruikt materialen:
Hardwood background stamp
Whisper white, soft sky and tangerine tango cardstock
Het was een super gave kaart te maken. Voor vragen of bestelling, stuur me een mailtje naar Adeline7674@hotmail.com of bel 06.134.179.71. Ik help jullie graag om deze techniek te proberen!
This was a super fun card to create. If you have any question, leave a message below or contact me at Adeline7674@hotmail.com. I help you with pleasure with your questions and orders. See below for contact information.
Lees meer over de November Stampin'Up! aanbieding here
Boven de 75 euros krij je ook de Pine Bought Texture Embossing Folder gratis. Een exclusieve cadeautje van me!

More information about the current Stampin'Up! sales hereReceive a the Pine Bought Texture Embossing Folder free for each order from 75 euros and above. An exclusif gift from me to you!

~~~~~Leave me a comment below, I love reading them!~~~~~
Happy Stampin'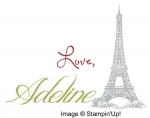 Save
Comments A friend like you ; Kiss technique tutorial